Douglas Yeo announces his retirement
from the Boston Symphony Orchestra
effective August 5, 2012
Earlier today (August 17, 2011), I formally announced my intention to retire from the Boston Symphony Orchestra on August 5, 2012, at the conclusion of the Tanglewood 75th anniversary season. Here is the official announcement that will be released by the Boston Symphony:
*****
Boston Symphony Bass Trombonist Douglas Yeo has announced his retirement from the BSO effective August 5, 2012 after over 27 years of service, following the final concert of Tanglewood's 75th Anniversary Season. He will leave the BSO as the orchestra's second longest tenured bass trombonist, following Leroy Kenfield who served from 1900-1934.
Hired by Seiji Ozawa, Douglas Yeo joined the Boston Symphony in May, 1985, during the Boston Pops 100th Anniversary Season; he came to Boston from the Baltimore Symphony Orchestra where he held the same position from 1981-85. He attended Indiana University (trombone studies with Keith Brown), is a 1976 graduate of Wheaton College, Illinois where he studied trombone with Edward Kleinhammer (bass trombonist of the Chicago Symphony, 1940-85), and earned his Master's degree from New York University in 1979.
Since his arrival in Boston, Mr. Yeo has served on the faculty of New England Conservatory of Music; he has also been on the faculty of Boston University and the Tanglewood Music Center. He has given masterclasses and recitals on five continents and released four best-selling solo trombone recordings to critical acclaim including, Proclamation, accompanied by Britain's Black Dyke Mills Band. In ten years as Music Director of the New England Brass Band (1998-2008) he recorded five albums with the Band and led it to two first place finishes at the North American Brass Band Association (NABBA) National Championships. The NEBB's final recording under his baton, Be Glad Then America – recorded in Symphony Hall - won the NABBA "Recording of the Year" award in 2007. He also served as NABBA's Vice-President and was editor of its publication, The Brass Band Bridge.
Douglas Yeo has performed as soloist with the Boston Symphony and Boston Pops Orchestras on many occasions, in works as diverse as Alan Hovhannes' Symphony 34, op. 310 for bass trombone and orchestra, John Williams' Tuba Concerto – he was the first person to play the work on bass trombone – both of Christopher Brubeck's Bass Trombone Concertos and Simon Proctor's Serpent Concerto. He is one of the world's leading performers and scholars of the serpent and ophicleide, having first played the serpent with the Boston Symphony in performances in the United States and Asia of Berlioz's Messe solennelle in 1994 under the direction of Seiji Ozawa. He has lectured and performed on the serpent at Harvard and Yale Universities as well as at museums in the USA, Britain and Europe; his serpent playing appears on many museum audio and video guides world-wide. His CD, Le Monde du Serpent (2003) and DVD, Approaching the Serpent: An Historical and Pedagogical Overview (2010) were groundbreaking projects that have been critically acclaimed. Since 1986, he has worked closely with YAMAHA Corporation in the development of the bass trombone and mouthpiece he plays.
As an author, Douglas Yeo has had dozens of articles published in leading music books, journals and periodicals including the New Grove Dictionary of Musical Instruments, Historic Brass Society Journal, the Galpin Society Journal and The Brass Herald. Among his many articles are his four photo-historical essays for the trombone, trumpet, horn and tuba Association Journals about brass players in the Boston Symphony. G. Schirmer, Southern Music, International Music, deHaske Music and Sarastro Music publish his many arrangements for trombone and chamber music ensembles; the book he co-authored with Edward Kleinhammer, Mastering the Trombone, is published by EMKO Publications.
Douglas Yeo and his wife, Patricia, plan to relocate to Goodyear, Arizona, in the southwest valley of Phoenix. He has been appointed Professor of Trombone at Arizona State University (Tempe), and will continue performing, researching and writing about the trombone and historical low brass instruments. The Yeos also plan to continue pursuing their love of hiking in the great National Parks of the American West.
*****
Since this is an important decision with implications that affect many people, I thought it might be helpful if I answered some questions readers might have about the announcement.
WHY HAVE YOU DECIDED TO RETIRE FROM THE BOSTON SYMPHONY NOW?
Well, I'm not exactly leaving right now. I will retire from the Boston Symphony Orchestra a year from now, in August 2012. More in the next section on why I'm announcing the decision at this time, but there are many reasons why I have decided to leave Boston and move on to another phase of life.
First, I should say that I have thoroughly enjoyed - in every way - my years as bass trombonist of the Boston Symphony. I won the BSO audition in December 1984 and began as a member of the orchestra in May 1985. When I retire next year, I will have served for over 27 years in my chair. When you add the four years I was a member of the Baltimore Symphony, I will have spent over three decades as a full time orchestral player.
It has been a wonderful ride. Ever since I was in high school, I wanted to play in a major symphony orchestra. That God directed my steps to do just that for so long is something for which I am immensely grateful.
Yet I have never felt that I would continue playing in the Orchestra until I could no longer hold up the trombone. The fact is that I have been extraordinarily blessed to have had a tremendously rich, full career as bass trombonist of the Boston Symphony. A quick rundown:
I've been on tour more times than I can count, playing great concerts on five continents in the great concert halls of the world. My three passports are documents of a life of travel that I could never have dreamed of.
I have played every piece I ever wanted to play with a trombone in my hand, and have recorded over 100 symphonic works as a member of the Boston and Baltimore Symphonies, as well as countless more as a member of the Boston Pops Orchestra. The discography that documents my career as an orchestral player - the recorded symphonies of Mahler and Brahms, works by Sibelius, Prokofiev, Ravel, Kodaly, Bartok, John Williams and countless others - provides a reference point for my work as a symphonic player.
I have had the privilege of working with some of the greatest conductors of the late 20th and early 21st centuries - from BSO music directors Seiji Ozawa (who hired me to the BSO) and James Levine, to Leonard Bernstein, Bernard Haitink, Simon Rattle, Colin Davis, Giuseppe Sinopoli, Gustavo Dudamel, Kurt Sanderling, Michael Tilson Thomas, Esa-Pekka Salonen, Lorin Maazel, Kurt Masur and countless others. Likewise, I have worked with some of the greatest soloists who have inspired my own performance - including Itzhak Perlman, Anne-Sophie Mutter, Kristian Zimmerman, Yo-Yo Ma, Jesseye Norman, Mstislav Rostropovich, Van Cliburn, Yvgeny Kissin, Jose van Dam, Jean-Pierre Rampal and Maurice Andre, to name just a few.
The primary role of the bass trombonist in an orchestra is to be one of the supporting voices of the orchestra. Yet I have had the opportunity to be soloist with the Boston and Baltimore Symphonies and the Boston Pops Orchestra on many occasions. This is a rare thing and one that came to me to very unexpectedly. Playing as soloist in front of my colleagues has been an exhilarating joy, and that I've gotten to do so many times is a rare gift.
I am, at this moment, the oldest brass player in the Boston Symphony, and my tenure the third longest among current members of the brass section (behind horn players Richard Sebring and Jonathan Menkis). I have seen my neighborhood - what James Levine always referred to as "the hard brass" - the trumpet and low brass sections - completely change from when I entered the orchestra. When I joined the BSO in 1985, Ronald Barron was principal trombone, Norman Bolter was second trombone and Chester Schmitz played tuba. Our trumpet section consisted of Charles Schlueter, Andre Come and Charles Daval. They have all left the BSO, and have, in turn, had their chairs filled by other fine players: Toby Oft, principal trombone, Stephen Lange, second trombone, Mike Roylance, tuba, and Thomas Rolfs, Benjamin Wright, Thomas Siders and Michael Martin on trumpet. All of these men have left their musical imprint on me and I have shared wonderful moments of music making with all of them. There have been particular performances that have been - to my ears - moments of transcendent music making that have inspired me greatly. I am especially grateful that as I head into my final season with the BSO, our "back row" is enjoying a moment in time of wonderful, collegial and high-level music making.
Spending the last quarter of a century (am I really writing those words?) playing in Symphony Hall has been a joy. It is - to my mind and that of many others - the finest hall in the world for symphonic music. Its simple but, at the same time, elegant design obscures the fact that it was the first concert hall in the world to be designed with scientific acoustical principles in mind. I have a great seat at every concert in which to enjoy the music, but to also enjoy how it fills the remarkable performance space that is Symphony Hall. But I have also had the opportunity to play in many of the world's great halls, including countless performances in Carnegie Hall in New York, the Concertgebouw in Amsterdam, the Musikvereinsaal in Vienna and Suntory Hall in Japan. While for me, there is "no place like home" when it comes to concert halls, these and many other performance spaces have left me with a deep sense of their own history of performance. To have played in concert halls where Gustav Mahler conducted, where Vladimir Horowitz performed, where Johannes Brahms' symphonies were premiered, where Igor Stravinsky's "Rite of Spring" received its first, scandalous performance, has deepened my sense of musical perspective. What a privilege this has been.
And, so, with this snapshot of highlights of my career as a symphonic player, you may still ask the question, "If this has been so exhilarating and enjoyable, why leave now?" The answer is actually very simple: because I am being called to do other things.
My Christian faith is not simply the guiding factor in my life: is IS my life. I have often said, when trying to explain what makes me tick, that,
Playing trombone is something I do, it's not who I am.
That is, while the trombone is a tremendously important part of my life, it does not define my existence and being, nor is it something that is integral to my "person." It is something I do - with great frequency, at a high level and with great joy - but it is not who I am.
To this statement goes an important corollary:
My Christian faith is who I am, it's not something I do.
That is, my faith defines me. It is not something I put on every Sunday morning when I head to church and then take off on Sunday afternoon before watching a football game. My faith is not an overlay that is peeled on and off. My faith is who I am - it informs all that I am, think, do and say. Every minute of every day. Everything in my life is seen through this lens, and my life is informed with the themes of faith, excellence and stewardship - wanting to live a life that is both pleasing to God and helpful to men and women who intersect with my path.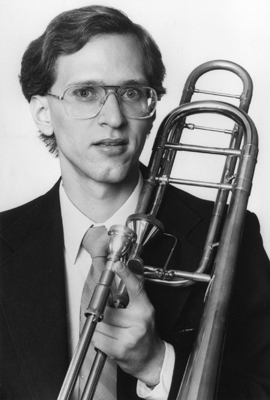 And, so it is that I have a very clear sense - from much prayer, thought, conversation and reflection - that God is calling me not just AWAY from my adult lifetime in the Boston Symphony but TO other things. This did not come about as a result of a lightening bolt. Rather, it has come about through much thought, prayer and interaction with others God has brought to intersect with my path, as I have constantly been seeking what He would have me do with my life in the days He has ordered for me to live on this earth.
So I have listened.
SOME PLAYERS STAY IN AN ORCHESTRA INTO THEIR 60s OR 70s. YOU WILL BE 57 WHEN YOU LEAVE THE BOSTON SYMPHONY. AREN'T YOU A LITTLE YOUNG TO MAKE THIS CHANGE?
Everyone is different. First, a clear sense that this is the right time for me to make this move is the most important thing. But there are other things at play.
I'm keenly aware that each of us has only so much time to live here on earth. While the old cliche, "You're only as old as you feel," is true, ones' biological age is a fact of life. There are many things I would like to do in the days and years ahead of me. Having had such a rewarding chapter of my life with the Boston Symphony, I am excited to have the opportunity - while still in good health - to explore new things, continue working on current projects, and see where life will take me.
The question is not whether I should or should not stay in the BSO longer. The question is whether I have a clear sense of leading not simply to put something down, but whether I am being led to pick up something else. That answer is, "yes."
WHAT WILL YOU BE DOING IN THE FUTURE?
I don't have a crystal ball and cannot predict what will happen tomorrow, much less a year, or five years from now. But I have made some plans - diverse, exciting and challenging plans - that I look forward to implementing as I move forward. I will continue to play the trombone. Not full time in an orchestra, but I will play regularly, keep in good shape, and explore performance opportunities as a soloist, chamber music player and periodic orchestral player. I'll continue my very rewarding relationship with YAMAHA, working with them to continue to improve their line of bass trombones and engaging in activities that allow me to work with other YAMAHA artists in satisfying collaborations.
Most of all I will continue to teach, and look forward to having more time to shape the next generation of trombone players (more on that below). I'll keep exploring early music through my research and performance on the serpent and ophicleide. These are all things I am doing now, but without the BSO job to occupy most of my professional time, I will be able to explore those other pursuits more fully and in more diverse ways. I also look forward to having time to write what I hope will be a major book on the trombone, something I have not had time to do with my busy Boston Symphony schedule. I will be able to say, "yes" to many of the people who ask me to teach, lecture or perform but I have to turn down because my full time job with the BSO simply doesn't afford me enough time to be away and do other things.
I will also continue writing articles and posting materials on my website that I hope will challenge and encourage musicians to reach for excellence. While my website has been more successful than I ever imagined it might be, there is more that I can do with it. My website will continue to be the primary place where I can post my thoughts, ideas and concepts and others can benefit from them. Do not be surprised if you see an "extreme makeover" of www.yeodoug.com in late 2012 as I explore new ways of communication with new resources, free downloads and information.
In addition, moving to this new phase of life will allow my wife and me to more fully enjoy our most enjoyable recreational activity: hiking in the great American National Parks.
Ever since we took a cross-country camping trip from New York City to California and back in 1978 - when we visited 12 National Parks - Pat and I have had a fascination with and love for our National Park system. Over the years we have returned again and again to Zion, Grand Canyon, Yellowstone, Yosemite, Glacier, Grand Teton, Arches, Canyonlands, Saguaro, Acadia, Bryce and many more. The experience of being in these remarkable places and the images that are imprinted on us through long days of hiking has shaped us. The timeless quality of nature along with its ever-changing face speaks deeply to my artistic side. Being on the trail in quietude, with all senses sharply focused on new things around every bend, is one of the most satisfying and thrilling thing I've ever experienced. We will now have more time to explore these beautiful parts of our great country and allow even more experiences in them to continue to shape us.
WILL YOU STAY IN THE BOSTON AREA OR ARE YOU GOING TO MOVE SOMEWHERE ELSE?
Deciding where to live is something about which you usually don't have much choice. Oh, you always have a choice about what house or apartment to live in, and even one town or another, but ever since I left home when I graduated from high school in 1973, I have moved to a particular part of the country because of school or a job. When I went to Indiana University, I lived in Bloomington, Indiana. When I went to Wheaton College, I lived in Wheaton, Illinois. I might never have chosen to live in those cities, but the decision was made for me when I chose those colleges. Likewise, we moved to New York City so my wife could complete her degree at Columbia University, and we moved to Edison, New Jersey so I could take a job as a high school band director. Moving to Baltimore and the Boston area for the Baltimore and Boston Symphony jobs led us to new areas of the country. But we moved there for the jobs.
At this time, we have the opportunity - for the first time in our lives - to choose to live anywhere on earth. I grew up in metropolitan New York City - in Queens, in Valley Stream/Hewlett (Long Island) and then in northern New Jersey (Jefferson Township) for my last two years of high school. Apart from the three years I was in school at IU and Wheaton, and the four years in Baltimore, I have lived my entire life in the northeast USA. I have experienced so much that it has to offer - beautiful fall foliage, gridlock traffic, balmy spring days, 107 inches of snowfall, witnessing Super Bowl, NBA, Stanley Cup and World Series championships, as well as the famous fast-paced northeast "attitude." It has been both wonderful and terrible - as can be said for just about any place on earth. Life is what you make of it, and we have made the most of our over 50 years in the northeast.
But now we can decide to live anywhere we want. And in our discussions about this over the last few years - and it should be kept in mind that the decision to leave the Boston Symphony was not made in a few minutes or a few weeks, but over many years of talk, reflection, thought and prayer - we began to settle on the idea of moving out to the Western part of the USA. It is there where we find so many of the beautiful National Parks we love so much. But we have also come to love a different pace of life that the West has to offer.
There are other things as well. I have spent my adult life commuting in challenging traffic. The novelty of shoveling snow and hauling firewood for our wood burning stove has certainly worn off. And while fall foliage brings beautiful colors, it also carries with it endless raking of leaves that is followed by a spring and summer of lawn work and mowing.
Wishing to streamline our life in particular ways and also enjoy a climate that allowed us to enjoy more time outdoors, we began to zero in on Arizona as the place we would like to enjoy our next season of life. Several visits there over the last few years - at all times of year - led us to buy a house in November 2010 in Goodyear, Arizona, in the southwest valley of Phoenix. We purchased our home at that time because it was the right opportunity to do so - the price was right for just the right house. The community where we will live has many amenities and a peaceful quality that greatly appeals to us. And that we will be moving there in 2012 - the year in which Arizona celebrates its 100th anniversary of statehood - makes us modern pioneers as we heed the call, "Westward Ho!" Or, perhaps, "Westward Yeo!"
Living in Goodyear - near a big city (Phoenix is the sixth largest city in the country) - also affords us with cultural and sports activities we will enjoy. We will enjoy Arizona Cardinals football, Arizona Diamondbacks baseball and Phoenix Suns basketball. Because those teams are all in opposite conferences than the Boston teams we love, we can happily cheer for both our Boston and Phoenix teams and will only have to test our loyalty if they meet in a championship. Cactus League baseball spring training is also very appealing, with the relaxed pace and small ball parks (like the new Goodyear Ballpark, spring training homes of the Cleveland Indians and Cincinnati Reds). College sports also will be a big part of our life.
Phoenix has also recently opened the largest musical instrument museum in the world where I look forward to having a role. Southwest and Indian culture and food present a lot of new things to explore.
[NB: The following paragraph was updated on October 28, 2011]
I am also pleased to announce I have been appointed Professor of Trombone at Arizona State University's School of Music in Tempe, Arizona, beginning in the fall of 2012. ASU has one of the country's finest music schools, and the prospect of working alongside some of the finest brass teachers in the world - David Hickman (trumpet), John Ericson (horn) and Sam Pilafian - tuba and euphonium - is something I look forward to with great anticipation. Teaching at Arizona State University will allow me to continue to form and inform the next generation of trombone players; this is something I have been doing for nearly 40 years, going back to my teaching in the Preparatory Department of Wheaton College when I was an undergraduate studying there. Teaching has been a very big part of my life in many different schools over the years (Peabody Conservatory of Music, Catholic University of America, Boston University, Boston Conservatory of Music, New England Conservatory of Music and the Tanglewood Music Center) and if you are reading this, you know how I have developed my website to help trombonists and other musicians become more complete and proficient players. I am passionate about teaching - just ask any of my students - and I look forward to working at ASU in a school with a great faculty, great facility, great tradition and great students. If you are a tenor or bass trombone player looking for a place to study alto, tenor or bass trombone for a Bachelor's, Master's or DMA degree, I hope you will consider ASU. My goal is nothing less than to have ASU be the best, most significant, consequential, interesting, fun, and important place in the world to study trombone for any degree program.
We also look forward to joining our new church, King of Kings Presbyterian (PCA) Church in Goodyear. When we decided to move to the Phoenix area, our decision to move to Goodyear rather than another city or town was made in large part due to its proximity to King of Kings Church. Our church community life is very important to us, and we wanted to live in the town where our church was located. We have visited King of Kings several times and already enjoy a very nice friendship with its pastor, Josh Hahne and his wife, Melissa. We are excited to become a part of this vibrant faith community where we can serve and be served as we grow to further impact the world, in the words of Wheaton College's motto, "Christo et Regno Ejus."
WHAT ABOUT YOUR STUDENTS AT NEW ENGLAND CONSERVATORY OF MUSIC?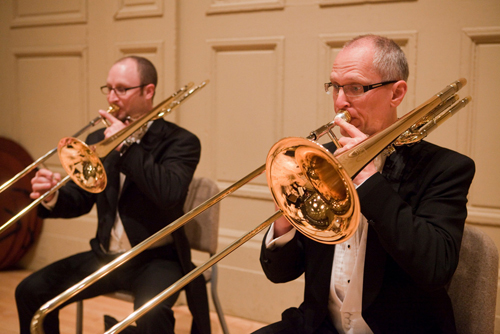 Deciding to end a chapter of life and move onto a new one rarely gets tied up in a neat little box with straight lines. Leaving Boston next year means I will be ending my 27-year relationship with New England Conservatory of Music. Over the years I have been very fortunate to have many fine, talented, hard-working students come into my studio at NEC. Together we have labored through, as my teacher, Edward Kleinhammer so memorably said, "the dual furnaces of determination and diligence." Because students enter NEC in different years for different terms of study, it was going to be true that no matter when I left Boston, there would be some students of mine who I could not see on to the conclusion of their degree. It just is not possible to line up everything nicely so both my students and I finish our time together at NEC at the same time.
I have contacted each of my students and let them know of my plans. I will continue working with them in the coming year, helping to prepare them for the life in music that awaits them; our last lessons together at NEC will be in May 2012. And I am confident that New England Conservatory will find a superb teacher for the school to follow after me in the fall of 2012, just as I came to join the NEC faculty in 1985 when I came to Boston.
And, because I will be teaching at Arizona State University beginning in fall, 2012, students who wish to study trombone with me can do so at a fine School of Music that has both a world-class faculty and facility.
WHEN WILL THE BOSTON SYMPHONY HAVE AN AUDITION FOR YOUR POSITION AND WILL YOU HAVE ANY ROLE IN THE PROCESS OF CHOOSING YOUR SUCCESSOR?
One of the reasons why I have decided to make the announcement of my retirement now as opposed to the Boston Symphony's mandated retirement notification date of December 1 is so the BSO can have time to schedule an audition next season to choose a new bass trombonist to join the orchestra after I leave. It takes many months to plan an audition - typically the BSO has slots for up to six auditions per season. Each audition unfolds over three days (a day for the audition committee to hear recorded auditions, a day for the preliminary round, and a day for the semi-final and final rounds) and must be scheduled around other BSO activities. Vacancies are announced in the American Federation of Musicians newspaper, "The International Musician," and the deadline for ad copy is so far ahead of the publication date that an audition can usually not be scheduled sooner than six-eight months from the date a Player announces his intention to leave the orchestra.
Announcing my retirement from the BSO at this time will allow the Orchestra to schedule a bass trombone audition at some time during the 2011-2012 season. If all goes well and one player distinguishes him enough to win the audition, we hope that person will be in place for the downbeat on opening night in fall, 2012, with a seamless transfer from me to my successor. When the BSO has decided on the audition date, it will be announced - along with audition repertoire - on the BSO website, www.bso.org
I will have no involvement whatsoever in the audition process for my successor. I will not be on the audition committee, I will not have input into the list of audition material, and I will not have a say in who gets invited to particular rounds of the audition. That is the way it always is in the BSO and that is the way it should be. I will not have to work with my successor - that is left to my colleagues who remain in the BSO after I have left. They are the ones who will evaluate candidates and run a fair audition that will lead to the right person being hired. I will enjoy watching that process unfold from the sidelines, and hope I will have the chance to meet my successor and shake his hand and welcome him to the chair I have held for so long.
I will make myself available to teach private lessons to people who may take the audition, although I will not be sharing any feedback about those lessons with members of the audition committee. Please don't contact me for a lesson if you think that doing so will get you an "in" with the audition committee. It won't. I'm always happy to help people who are preparing for auditions and there won't be any exception this time. It is an exciting time for bass trombonists around the world - they will have a chance to audition for a chair that has not been open for nearly three decades. Those who, by the "accident of birth" (which, of course, is no accident at all), find themselves of age to consider taking this audition will have a chance to play their way into the BSO at which time the chair may be occupied by one of them for another three decades. Or more.
So why are you reading this? Shouldn't you be practicing?
SO WHAT HAPPENS NOW?
I will happily continue doing what I've been doing for so long. I look forward to my upcoming concerts with the Boston Symphony and Boston Pops Orchestras, teaching my students at New England Conservatory, and to working with my BSO colleagues to bring our highest collective level of artistry to our performances. But I will not be engaging in a "long farewell" in Boston, where every concert is looked on as the "last time" I will do this or that. Rather, I plan to continue enjoying my life in music as it unfolds and, on August 5, 2012, take a step into another phase of life and enjoy THAT as it unfolds. I feel extraordinarily blessed to have been given the opportunities that I have had over the last three decades. They are unforgettable and they have shaped me. And, yes, I will miss some things as well. The Boston Symphony has been very good to me. I have shared a great many experiences with my colleagues - both new and old. Together we have enjoyed collaborations that have been immensely satisfying. I will miss those colleagues and experiences, but they will never leave me. Even as I go on to a new place and new activities, the things I've learned and shared in Boston will always be part of me. It has been a remarkable adventure for me, a fun ride, and I have been shaped by all of it.
So, with all of the experiences of my years in Boston in my pocket, I move on to new activities, horizons, sunrises and sunsets. But no matter what the future may bring, my time as a member of the the Boston Symphony will always be something I look back on with both fondness and exhiliration, as I was able to live a life that, until it all came to be, I could only have dreamed of. I will never forget:
Playing the "Sea Interludes" from Britten's "Peter Grimes" with Leonard Bernstein, in what was his last concert.

Playing Haydn's "The Creation" and Mahler "Symphony 10" with Simon Rattle.

Playing Berlioz's "Requiem" in Carnegie Hall in an emotionally charged performance conducted by Seiji Ozawa just weeks after the 9/11 terrorist attacks.

Playing in the pregame show with the Boston Pops at Super Bowl XXXVI - and then having the New England Patriots' winning field goal come right to us in our end zone seats.

Recording the soundtracks to the movies Schindler's List and Saving Private Ryan under the baton of John Williams.

Playing Brahms' Symphony 2 with Bernard Haitink in Boston and on tour in Europe, culminating with a very special performance in Amsterdam.

Playing serpent in Berlioz's, "Messe solennelle," conducted by Seiji Ozawa in performances in Boston, New York and Tokyo, in what was the beginning of my long association with historical instruments.

Playing ophicleide on Berlioz's "Damnation of Faust" with James Levine, and serpent on Mendelssohn's "Reformation Symphony" with Ton Koopman.

Giving performancs of Wagner's "The Flying Dutchman" and Berlioz's "Les Troyens" with James Levine that featured some of the most remarkable singing I have ever heard in my life.

Playing bass trumpet on performances of Act III of "Gotterdammerung" and Act I of "Die Walkure" conducted by Bernard Haitink, and in Strauss' "Elektra" with Seiji Ozawa.
Playing... well, the list goes on and on. I could write a book - and just might - about the myriad experiences I have had in the back row of the Boston Symphony Orchestra, and the shared musical highlights I have had with Ron, Norman, Chester, Toby, Steve and Mike. And as I prepare to leave Boston, I anticipate new musical experiences in new venues with new people. I look forward to sharing more of these musical moments with you - in Boston, in Arizona and in other places in the time yet to come. Westward Yeo!
---
PHOTOS:
1. My most recent formal Boston Symphony portrait, 2010. Photo by Michael J. Lutch.
2. Baltimore Symphony Orchestra trombone section, 1981: James Olin (co-principal), David Fetter (co-principal), Eric Carlson (second), Douglas Yeo (bass). This trombone section worked together from 1981-1985.
3. My first formal Baltimore Symphony portrait, 1982.
4. My first formal Boston Symphony portrait, 1985.
5. Boston Symphony Orchestra low brass section, 2001: Ronald Barron (principal), Norman Bolter (second), Douglas Yeo (bass), Chester Schmitz (tuba). This low brass section worked together from 1985-2001.
6. At Grand Canyon National Park, March, 2009.
7. Boston Symphony Orchestra low brass section with Music Director James Levine, 2007: Ronald Barron (principal), Norman Bolter (second), James Levine (Music Director), Douglas Yeo (bass), Mike Roylance (tuba). This low brass section worked together from 2003-2007.
8. Boston Symphony Orchestra retiree party for Ronald Barron and Norman Bolter, 2008: Douglas Yeo (bass), Ronald Barron (principal), Norman Bolter (second). This trombone section worked together from 1985-2007.
9. The Music Building (West) at Arizona State University, September 2011.
10. Boston Symphony trombone section, 2008-2010: Toby Oft (principal), Douglas Yeo (bass) [The second trombone vacancy caused by Norman Bolter's retirement was filled by Stephen Lange in Fall, 2010.]. When I retire in August, 2012, Toby and I will have worked together from 2008-2012. Photo by Michael J. Lutch
11. Boston Symphony Orchestra trombone section, Opening Night, October 2, 2010: Toby Oft (principal), Stephen Lange (second), Douglas Yeo, bass). When I retire in August, 2012, this trombone section will have been together from 2010-2012. Photo by Randall Hawes.
12. Boston Symphony Orchestra low brass section, performance of Mahler Symphony 9, March 1, 2011: Toby Oft (principal), Stephen Lange (second), Douglas Yeo, bass), Mike Roylance, (tuba). When I retire in August 2012, this low brass section will have been together from 2010-2012. Photo by Michael J. Lutch.
13. Boston Symphony Orchestra trombone section, rehearsal for Brahms Symphony 1, August 13, 2011: Toby Oft (principal), Stephen Lange (second), Douglas Yeo (bass). When I retire in August 2012, this trombone section will have been together from 2010-2012. Photo by Michael J. Lutch.
14. With my wife, Patricia, in front of our home in Goodyear, Arizona, November 2010.
---
Unless otherwise noted, all text and graphics on this website [yeodoug.com] are
©1996-2013 by Douglas Yeo.
All rights reserved.