DOUGLAS YEO BIOGRAPHICAL SKETCH
Bass Trombonist Douglas Yeo was born in Monterey, California and grew up in Queens and Valley Stream, New York (where he began playing the trombone at the age of nine in the Hewlett-Woodmere school system), and Oak Ridge, New Jersey (where he graduated from Jefferson Township High School in 1973). In 2019, he was appointed to the faculty of Wheaton College (Illinois) as Lecturer of Trombone. From 2012-2016, he was Professor of Trombone at Arizona State University, a position he assumed after a 27 year career as Bass Trombonist of the Boston Symphony Orchestra/Boston Pops Orchestra. Upon his retirement from ASU, he was given the title of Distinguished Adjunct Professor of Music. Before coming to Boston in May, 1985, was a member of the Baltimore Symphony Orchestra from 1981-1985 and he was on the faculties of the Peabody Conservatory of Music in Baltimore and the Catholic University of America in Washington, D.C. He holds a bachelor of music degree with honor from Wheaton College in Illinois and a master of arts degree from New York University. His principal teachers were Edward Kleinhammer and Keith Brown. Before embarking on his orchestral career, Mr. Yeo held varied posts including two years at the National Office of the Anti-Defamation League of B'nai B'rith in New York City and a year as Secretary to the Assistant Director of Admissions at New York University Law School. His broad based musical background has included two years as a high school band director, a four-year tenure with the Goldman Band, and performances with the Vienna Philharmonic Orchestra, the Mostly Mozart Festival Orchestra, the Gerry Mulligan Big Band, and orchestras for numerous Broadway shows. In addition to playing the bass trombone, he plays serpent ophicleide, and bass sackbut.
In 2014, Douglas Yeo was the recipient of the International Trombone Associations highest honor, the ITA Award. Presented to him at the 2014 International Trombone Festival held at the Eastman School of Music in Rochester, New York, the award was given to him "in recognition of his distinguished career and in acknowledgement of his impact on the world of trombone performance."
From 1998-2008, he was Music Director of The New England Brass Band which released five compact disc recordings under his direction, Christmas Joy!, (1999) Honour and Glory (2001), The Light of the World (2004), This Is Christmas (2005) and Be Glad Then America (2007), winner of the North American Brass Band Association's 2007 "Recording of the Year" award. In 2006, the New England Brass Band, under Mr. Yeo's direction, won first place in the Honors Section at the North American Brass Band Association (NABBA) Championship held in Louisville, Kentucky, building on their 2004 Championship win of the Challenge Section in Charleston, West Virginia. From 2007-2009 he served a term as NABBA's Vice-President and from 2006-2009 served as editor of its official publication, The Brass Band Bridge and was a member of the NABBA Board of Directors. At his final concert as Music Director of the New England Brass Band (June 1, 2008), the band made him an Honorary Member of the NEBB and gave him the title of "Director Emeritus." In 2009, the Natural State Brass Band of Little Rock, Arkansas, named him Associate Conductor of the band.
In addition to his work with the New England Brass Band and the North American Brass Band Association, Douglas Yeo has been soloist with many brass bands around the world including the Black Dyke Mills Band, the Williams Fairey Band, the Fodens Band, the Pennine Brass and the New York Staff Band of the Salvation Army. In 2007 he travelled to England to play as a member of the Brass Band Aid Celebrity Band, organized to raise money for the charity Brass Band Aid.
While in Boston, Professor Yeo was on the faculty of New England Conservatory of Music. At NEC, he served as Chairman of the Brass and Percussion Department and conductor of the New England Trombone Choir at New England Conservatory. For several years, the New England Trombone Choir collaborated with New England Conservatory's Percussion Ensemble (led by Frank Epstein) in an annual concert named Skin and Bones which featured the premiere of several works for trombones and percussion. He has eight times times - most recently in 2019 - been on the faculty of the annual Hamamatsu (Japan) International Wind Academy and Festival and has also conducted masterclasses and given recitals at the Masterworks Festival sponsored by The Christian Performing Artists' Fellowship and the Fourth (2013) International Trombone and Tuba Festival in Beijing, China. Other residencies have included his participation in the 2003 University of Dayton (Ohio)/Carillon Brass Festival, as the first "Visiting Artist" in residence at Lexington (Massachusetts) Christian Academy (2003), at the Banff Centre's (Banff, Canada) Summer Brass Residency (2007) and at the Dutch Bass Trombone Open (Amsterdam) (2008). While on sabbatical from the Boston Symphony Orchestra in 2009, he travelled over 40,000 miles , giving recitals and masterclasses, as well as speaking at colleges and universities around the world.
Douglas Yeo has been a soloist with the Boston and Baltimore Symphony Orchestras; on both occasions becoming the first bass trombonist to perform as soloist with either orchestra. In 1991, he gave the premiere of Vaclav Nelhybel's Concerto for Bass Trombone with the New England Conservatory Wind Ensemble and performed John Williams' Tuba Concerto with the Boston Pops Orchestra under Mr. Williams, becoming the first bass trombonist to perform the piece. He gave the first performance of Lawrence Wolfe's Wildfire with the University of Washington Wind Ensemble in 1995 and has also premiered numerous compositions by Norman Bolter including Temptation for serpent and string quartet, Ancestors for digeridoo, shofar and serpent, and La Grotte Cosquer for tenor and bass trombones. His critically acclaimed first solo recording, PROCLAMATION with The Black Dyke Mills Band features premieres of four newly commissioned works: Proclamation by Gordon Langford, Rainy Day In Rio by Goff Richards, Triptych by Lawrence Wolfe and Tribute to George Roberts arranged by Bill Geldard. His second solo recording, Take 1, features live solo performances given in concert from 1975-1997 including Alan Hovhannes' Symphony Number 34, Opus 310 for Bass Trombone and Strings. His solo recording, Cornerstone, of arrangements of hymns and gospel songs for bass trombone and piano, was released in 2000. In March 2002, his bass trombone solo recording, Two Of A Mind - an album of solos and duets with British tenor trombonist Nick Hudson accompanied by the Williams Fairey Band and pianist David Chapman - was released on the Egon label. In 2014 he released Table for Three, a compact disc on Summit Records of music for brass trio on which he collaborated with ASU brass faculty members Dr. John Ericson (horn) and Dr. Deanna Swoboda (tuba). With the ASU Desert Bones Trombone Choir, he conducted and released two CDs, Of Grandeur, Grace & Glory (2014) and It's Beginning to Look a Lot Like Christmas (2015).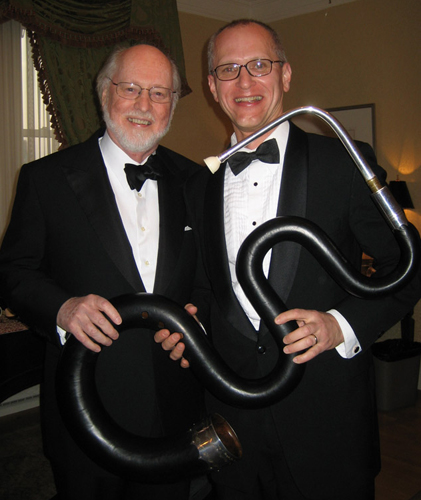 In May 1997, he performed Simon Proctor's Concerto for Serpent and Orchestra with the Boston Pops Orchestra under the direction of John Williams; he repeated performances of the Concerto in 1997 with the Boston Classical Orchestra conducted by Harry Ellis Dickson, in 1998 with the Connecticut Valley Chamber Orchestra, in 2000 with the Wheaton College (IL) Symphony Orchestra, in 2003 with the South Dakota Symphony Orchestra and in 2010 with the Terre Haute (IN) Symphony Orchestra. His ground-breaking CD, released in 2003, Le Monde du Serpent features his playing serpent in repertoire spanning over three centuries. In 2010, he released his first-of-its-kind DVD project, Approaching the Serpent: An Historical and Pedagogical Overview.
In 1982, 1999, 2004, 2013, 2014, 2017, and 2018, he was a featured guest artist and clinician at the International Trombone Festival and in 1999 also performed the Christopher Brubeck Concerto for Bass Trombone and Orchestra with the Boston Pops Orchestra (Keith Lockhart, conductor). In 2000, his performance of the finale of the Brubeck Concerto, "James Brown in the Twilight Zone", was broadcast on television as part of the "Evening at Pops" series on the Public Broadcasting System (PBS). In 2007 he gave the East Coast premiere of Christopher Brubeck's second Concerto for bass trombone, The Prague Concerto with the Boston Pops Orchestra conducted by Jerry Steichen. In recognition of his "distinguished career and in acknowledgement of his impact on the world of trombone performance," Douglas Yeo was awarded the International Trombone Association's 2014 ITA Award.
A prolific writer, Mr. Yeo has written more than forty articles on the trombone and orchestral playing for the Galpin Society Journal, International Musician, The Instrumentalist, The Brass Herald, Christianity Today, the Historic Brass Society Journal, the International Trombone Association Journal, the T.U.B.A. Journal, the International Trumpet Guild Journal, The Horn Call, the Newsletter of the Christian Instrumentalist and Directors Association (CIDA), The Real Issue, Transpositions and the Boston Symphony program book. His interest in the history of the BSO has led him to do extensive research in the Boston Symphony archives, resulting in the publication of four photo/historical articles on BSO brass players from 1881 to the present; he mounted an exhibit at Symphony Hall on the history and hobbies of members of the Boston Symphony from 1881 to the present during the 1993-94 season. During the Boston Symphony's 2005-06 season he created an exhibit at Symphony Hall about the life and works of composer Hector Berlioz. In 2000, he wrote a trombone teaching curriculum for the University of Reading's (United Kingdom) Music Teaching in Private Practice Initiative of their Department of Arts and Humanities in Education.
Mr. Yeo has become a leading exponent of historical brasses, having played as soloist, in chamber ensembles and in orchestras on serpent, ophicleide and bass sackbut. In 2001 he joined the orchestra of Boston Baroque (Martin Pearlman, conductor) for performances of Monteverdi's L'Orfeo (on bass sackbut) and Handel's Music for the Royal Fireworks (on serpent), the latter of which was released in 2003 on the Telarc label. He joined Boston's Handel and Haydn Society for performances of Berlioz' Symphonie Fantastique (playing ophicleide) in 2002 and 2006, in the Monteverdi Vespers of 1610 (playing bass sackbut) in 2003 and Monteverdi's L'Orfeo in 2006 (playing bass sackbut); in 2005 he played serpent with wind players from the Handel & Haydn Orchestra on the Divertimento in B flat [St. Antoni Chorale] attributed to Haydn and in Purcell's Dido and Aeneas. Also in 2005 he played ophicleide in the first North American performance on original instruments of Berlioz's Romeo and Juliet with Chorus Pro Musia in Boston. In June 2005 Douglas Yeo presented a paper on serpent and ophicleide players in brass bands at the Great American Brass Band Festival's History Conference (Danville, Kentucky) and also performed a solo on ophicleide accompanied by the Athena Brass Band (Anita Cocker Hunt, conductor). In December 2005, the American Serpent Players (Douglas Yeo, Craig Kridel, Steve Silverstein) took part in the 40th anniversary concerts presented in New York City by P.D.Q. Bach (aka: Peter Schickele). In 2008 he premiered Gordon Bowie's serpent concerto, Old Dances in New Shoes with the Boston Classical Orchestra. More recently, he played ophicleide in performances of Mendelssohn's Elijah with the Handel and Haydn Society (2015) and serpent with Philharmonia Baroque in Handel's Music for the Royal Fireworks and Overture to An Occasional Oratoria (2016). He presented a recital of music for serpent at the 2000 Historic Brass Festival at the University of Connecticut (Storrs, CT), premiered Therese Brenet's Le Bronze et le Lumiere for serpent and piano at the 2009 Historic Brass Festival, has lectured on the serpent at Boston's Museum of Fine Arts, the National Music Museum in Vermillion, South Dakota, the Yale Centre for British Art and the Metropolitan Museum of Art in New York City, and is named in the New Grove II Dictionary of Music's article on the serpent. His serpent playing is heard on museum audio guides around the world including the Musical Instrument Museum (Phoenix), Museum of Fine Arts (Boston USA), the Bate Collection (Oxford, England) and the Musee royal de l'Armee et d'Histoire militaire (Brussels, Belgium). In 2012, he performed a recital of serpent duets (collaborating with French serpentist, Volny Hostiou) at the Second Historic Brass Symposium in New York City and in 2015, gave a recital in the Hamamatsu (Japan) Museum of Musical Instruments, performing on eleven different historical brass instruments.
He is the author of The One Hundred: Essential Works for the Symphonic Bass Trombonist, the most comprehensive book in print on the subject of bass trombone audition and concert preparation. He is also the co-author, along with Edward Kleinhammer, of Mastering the Trombone published by Ensemble Publications. His arrangements of music for trombone and piano, trombone ensemble and brass ensemble, and trombone duet are published by International Music, Southern Music, Ensemble Publications and G. Schirmer.
Douglas Yeo has been a frequent guest on many radio and television shows including the Canadian Broadcasting Corporation's "In Performance," BBC Radio 2 and TV 4, ABC-Radio's "Cybershake" with Jon Belmont, "Worldchangers" with Dr. Bill Bright, "Here and Now" with Robin Young (Public Radio International) and the Billy Graham Evangelistic Association's "Decision Today." He has also lectured at Wheaton College (IL), Greenville College (IL) and Harvard University as well as England's Royal College of Music, Royal Academy of Music and the Royal Nothern Academy of Music. In 2007 he taught at England's Chetham's and Taunton Schools and has given trombone masterclasses at colleges and universities on five continents. As a member of the Boston Pops Orchestra, he performed at the pre-game show of the National Football League's Super Bowl XXXVI on February 3, 2002, which was won by the New England Patriots.
An international YAMAHA Performing Artist, Douglas Yeo has collaborated with YAMAHA to produce the bass trombone (YAMAHA YBL-822) and mouthpiece (YAMAHA Douglas Yeo Signature Series Bass Trombone Mouthpiece) that he currently plays. In 2004, he made a video at the Yamaha Toyooka Factory in Hamamatsu, Japan, "Making Trombones" that guides viewers through the process of design and manufacture of Yamaha trombones. In 1994, the Massachusetts Family Institute presented Mr. Yeo with their first Citizen Award in recognition of his work on behalf of children and families in the Lexington (MA) Public Schools.

Photo credits:
Douglas Yeo at Arizona State University; Timothy Hutchens, photographer. Used with permission; all rights reserved.
Yo-Yo Ma and Douglas Yeo at Symphony Hall, Boston; Toby Oft, photographer. Used with permission, all rights reserved.
John Williams and Douglas Yeo with serpent at Symphony Hall, Boston; Lawrence Wolfe, photographer. Used with permission; all rights reserved.
Douglas Yeo with buccin at the Hamamatsu (Japan) Museum of Musical Instruments. Used with permission from Kazuhiko Shima, Museum Director, all rights reserved.