---
P.D.Q. BACH AND THE AMERICAN SERPENT PLAYERS (ASP)
---
For over 40 years, Peter Schickele has been introducing the music of P.D.Q. Bach (1807-1742?), the youngest and least prolific of the many sons of the great J.S. Bach. Schickele, as professor of music at the University of Southern North Dakota at Hoople, produces annual concerts in New York City between Christmas and the New Year. In the mid 1970's, when my wife and I were living in Manhattan, we attended several of these concerts at Carnegie Hall. Their memory is strong and Schickele's wit has been a part of our musical life for three decades.

In 1989, Craig Kridel (who organized the first Serpent Festival at the University of South Carolina, celebrating the 399th anniversary of the invention of the serpent) asked Peter Schickele if P.D.Q. Bach had ever written a piece for serpent. Schickele replied that he had not, but that P.D.Q. Bach had written a piece ABOUT the serpent. "O, Serpent" is a round which was premiered in 1989 by the London Serpent Trio with a vocal ensemble assembled for the occasion. When Schickele decided to include "O, Serpent" on his 2005 concerts in New York City - concerts which would celebrate 40 years of P.D.Q. Bach concerts - I was thrilled to be asked to join with Craig Kridel and Steve Silverstein to form the American Serpent Players (ASP), a trio within the Berlioz Historical Brass collective.

The P.D.Q. Bach 40 Year Retrogressive featured works from each decade of Schickele's concerts.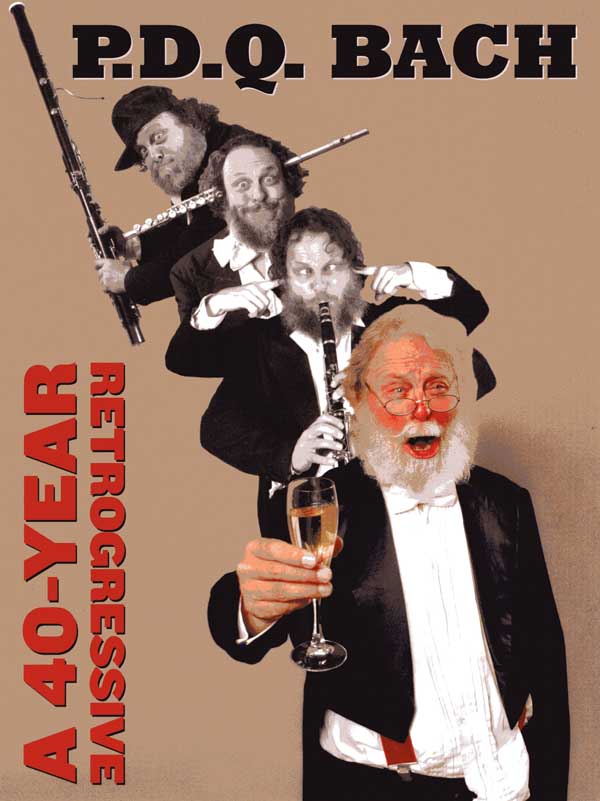 Craig Kridel, Steve Silverstein and I gathered to rehearse "O, Serpent" on the morning of the first concert, December 27, 2005. We also rehearsed Matyas Seiber's "Foxtrot" which I recorded on my CD, Le Monde du Serpent. This charming trio was a special favorite of Christopher Monk, the leader of the modern revival of the serpent who passed away in 1991, and was performed many times by the London Serpent Trio. While we realized that we would perform only one piece at the concerts, it's not every day that three serpent players gather together so it was great fun to play the "Foxtrot." When we traveled to Symphony Space to rehearse with Schickele and the other performers, Peter, much to our surprise, asked us if we would be willing to play an encore. Our work on the "Foxtrot" was rewarded and we prepared to play not only "O, Serpent" but the "Foxtrot" as well.

It was great to be at the rehearsal and see the other performers, including singers Michèle Eaton, Hai-Ting Chinn, Robert Isaacs, and David Düsing sing madrigals by Schickele and P.D.Q. Bach and then be joined by Schickele, Isaacs and Düsing for the rehearsal of "O, Serpent."

Back stage before the concert, Hai-Ting Chinn took this photo, from left to right: Craig Kridel, Peter Schickele (note he is wearing work boots), myself and Steve Silverstein.
On December 29 (the day after Christopher Monk's birthday), the New York Times published a review of the concert by Allan Kozinn. It was an unqualified rave, which said, in part:
Forty years ago, when college-age classical music fans decided that Baroque was hot and began snapping up the works of long-forgotten composers as fast as musicologists could rediscover them, Peter Schickele saw a market niche that had eluded everyone else. For Mr. Schickele, a 30-year-old composer only five years out of Juilliard (and back there to teach), musicology and the business of discovering antique composers had comic possibilities.

Drawing on a talent for parody that went back to his childhood, when he and his brother assembled a "Sanka" Cantata, after a fully caffeinated Bach work, Mr. Schickele invented P. D. Q. Bach, an 18th- and early 19th-century composer with a sterling pedigree (he was supposedly the last of J. S. Bach's many children) and no redeeming musicality. To present and explain P. D. Q. to the world, Mr. Schickele gave himself a new persona: as Prof. Peter Schickele of the University of Southern North Dakota at Hoople, he is the world's sole authority on P. D. Q. Bach, and the "discoverer" of what has grown into a huge repertory of bizarrely named and even more oddly written works.

P. D. Q. Bach has become a durable industry, and Mr. Schickele's annual concerts have become ornaments of the holiday season as well. This year's run, which opened at Peter Norton Symphony Space on Tuesday evening, is a 40th- anniversary retrospective (or "retrogressive," as Mr. Schickele puts it), with classics like "My Bonnie Lass She Smelleth" and the "Liebeslieder Polkas" (S. 2/4) offered alongside more recent catalogue entries like the Allegretto Gabinetto for Plumber and Keyboarder (S. 2nd Door on the Left).

. . .

Mr. Schickele's roster of fine musicians included Margaret Kampmeier and Elizabeth DiFelice, pianists; the Canticum Novum Singers, conducted by Harold Rosenbaum; the Armadillo Quartet and the American Serpent Players, as well as a handful of vocal soloists, all of whom contributed straight-facedly as Mr. Schickele made an art of tomfoolery.
As if this wasn't enough, the review was accompanied, both in the print and online versions of the New York Times, by this photo by Richard Termine.

Photo © 2006 Richard Termine. Reproduced with his kind permission. All rights reserved.
Concertgoers were given, with their program, this little item which needs no explanation. Such is the zany mind of Professor Schickele!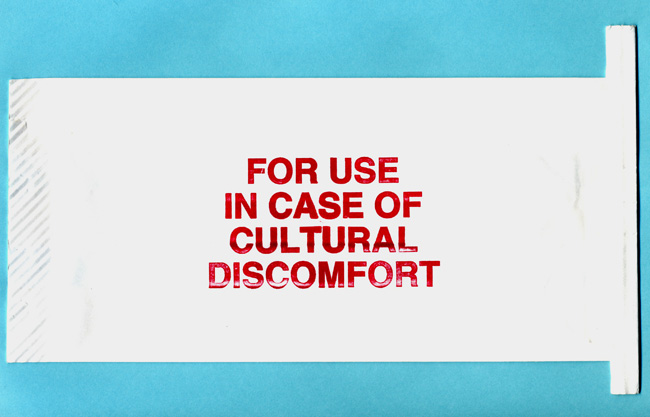 Since we only played two short pieces on the program, there was plenty of time back stage to interact with the other artists. Hai-Ting Chinn, who is Schickele's daughter-in-law in addition to being a fine singer, took an interest in the serpent and asked to play my instrument. I happily obliged, giving her some mini-lessons as she played with Steve Silverstein and myself looking on.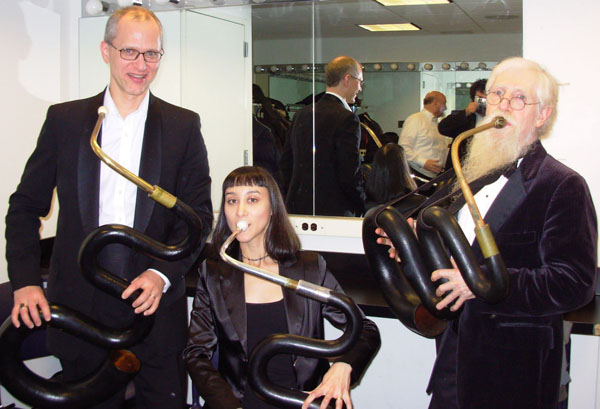 Later, when I was playing along with Hai-Ting (who is a former trombone player and took to the serpent very quickly!) to help her center pitches on the serpent, Craig Kridel snapped this photo.
Among the many pieces on the program was P.D.Q. Bach's String Quartet in F major, "The Moose" (S.Y2K) performed by the Armadillo Quartet. Cellist Armen Ksajikian asked if he could have two serpents for a minute, a pose which called to mind Polyphemus' famous line from Handel's "Acis and Galatea": Bring me a hundred reeds of decent growth, to make a pipe for my capacious mouth. Craig Kridel can be seen in the mirror's reflection, looking on.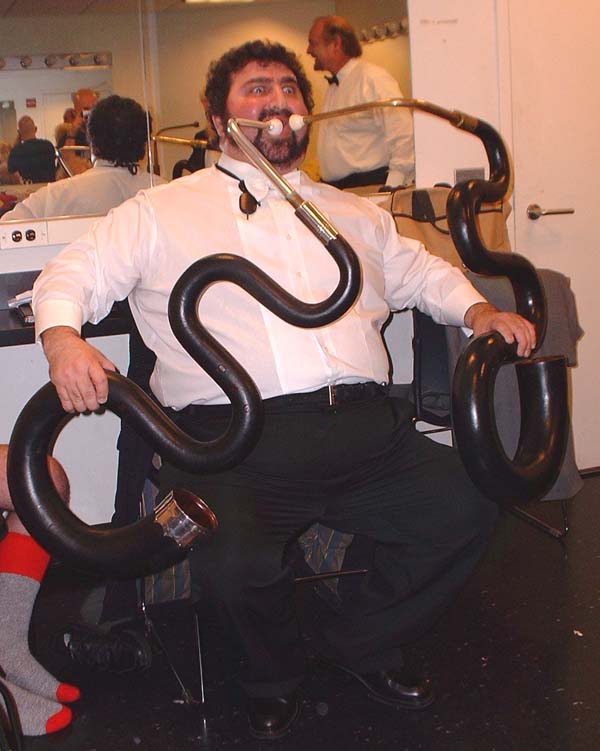 Finally, there was a serendipitous moment when Craig Kridel realized that he and stage manager William Walters (who had been playing the role of stage manager for these concerts from their beginning) grew up in the same town in Ohio. When I snapped this photo, William instantly reverted to character, ever the straight man in the midst of uproarious fun.
Three concerts - December 27, 28 and 29 in the year 2005. They came and went like a flash but they will always be looked back on by me with the fondest and most wonderful memories as I, along with my good friends Craig Kridel and Steve Silverstein, became a little part of the legacy of the musical mayhem of P.D.Q. Bach.
---
For more information about the serpent and my many activities with this most unusual instrument follow this link to my article Tempted By A Serpent.
---
Unless otherwise noted, all text and graphics on this website [yeodoug.com] are
©1996-2013 by Douglas Yeo.
All rights reserved.