Recommended Links
The Internet is made up of two kinds of websites: endpoints (where people get information) and intersections (which point people to information). I have designed yeodoug.com to be an endpoint. This page of links is different than the rest of my website since it is dedicated to pointing the reader to other useful websites.
Each day I get dozens of requests from people and organizations asking if I would put a link to their page on my website. I almost always decline these requests. There are many websites that have long lists of external links but I have decided only to link to high quality websites of individuals, organizations or companies with whom I have had an ongoing personal or business relationship. When you click on a link below, you know it is a website that I value myself. While I do not necessarily endorse all content on all sites below and I cannot vouch for the reliability of all of an external website's internal links, I am pleased to recommend these websites.

Arizona State University Trombone Studio
In 2012, I began my tenure as Professor of Trombone at Arizona State University. The ASU Trombone Studio website gives comprehensive information about trombone study at ASU, and provides details of current and future activities for both current and prosepctive students.

Take a virtual tour of Symphony Hall in Boston, order tickets, view complete schedules for the Boston Symphony, Boston Pops Orchestra and Tanglewood. Also view complete biographies of BSO members.

Yamaha has developed an excellent site from which you can get information about all Yamaha products including their complete line of trombones and mouthpieces (including the Yamaha YBL-822G and the (YAMAHA Douglas Yeo Signature Series Bass Trombone Mouthpiece) which I play).

The New England Brass Band From 1998-2008, I was Music Director of the New England Brass Band, a brass ensemble in the British tradition based in the Boston area; Stephen Bulla is the band's current Music Director. This link will lead you to the band's official web site with information about the band, a photo gallery, schedule of band concerts and events and information about the band's four compact disc recordings, "Honour and Glory," " The Light of the World," "This is Christmas" and "Be Glad Then America."

This site presents the work of Berlioz Historical Brass, an important organization (of which I am a member) which explores the role of 19th century brasses including serpent, ophicleide, and buccin, through commissioning music, presenting concerts and lectures, assisting with production of recordings and much more. This is a fascinating website that gives much information about this important area of research, performance and discovery.

EARLY MUSIC and BRASS BANDS
This is an excellent site devoted to one of my favorite instruments, the serpent. Everything from serpent history, use, photos, quotes (some VERY interesting) and more is there. It is maintained by Paul Schmidt, editor of the Serpent Newsletter.

The Christopher Monk Workshops of England manufactured one of my serpents, pictured at left (see my article, Tempted by a Serpent). It is simply THE place to go if you want to purchase a serpent, cornett or baroque oboe.


North American Brass Band Association
Sponsors of the North American Brass Band Championships, NABBA is an organization dedicated to promoting brass banding in North America. In addition to sponsoring the National Championship competition each year (the New England Brass Band was the first place winner in NABBA's "Honors" section in 2006), NABBA publishes a newsletter, "The Brass Band Bridge" and serves as a network to connect brass band musicians in North America. The NABBA website has information about the organization, archived back issues of the newsletter, contest rules and information, and links to NABBA bands.


This comprehensive site of information about brass bands (worldwide), band links, the brass band mailing list as well as information about band vacancies, situations wanted and professional cards of conductors, clinicians and soloists is maintained by Nigel Horne.

This is an important resource for trombonists - a monthly journal about the trombone that is available online. The OTJ features articles, interviews, surveys and reviews. It also has an extensive (and frequently updated) list of trombones for sale/wanted to buy. The Journal is peer-reviewed and is of a very high quality; I have been pleased to contribute to this publication on occasion. The OTJ is maintained and edited by Richard Human, Jr. and is an excellent source of information for trombonists and other musicians.

The Home Page of the British Trombone Society, including the online version of their fine journal, The Trombonist. The BTS is leading the way with the marriage of print and web based trombone journals. This excellent site, which I believe is one of the best trombone sites on the web, is maintained by Edward Solomon.

International Trombone Association
The International Trombone Association maintains a website in addition to its other activities which include a quarterly print journal and a yearly Festival. Information on the ITA, trombone news, competitions, auditions and selected articles form the ITA Journal may be found on its website.

The Dutch Bass Trombone Open is held near Amsterdam in even numbered years. Hosted by three Dutch bass trombonists (Marcel Schott, Bery Damsma and Erwin Dijkstra) and sponsored by Atelier Pfeiffer, it is a high quality, well organized event that brings together bass trombonists from around the world (the DBTO makes it clear that, "No tenor trombones will be used, permitted, harmed or damaged in any way during this event!"). I was very pleased to be a part of the 2008 DBTO which brought together 42 bass trombone players from 12 countries; Ben van Dijk, Phil Teele and I were the teachers. If you are a bass trombonist interested in a well run, high quality event, I urge you to consider attending the next Dutch Bass Trombone Open.

Trombone Italia Magazine is devoted to the world of the trombone and has developed a superb website that includes articles, an online forum, biographical information, discographies and much more. The website is in Italian and reflects the growing international interest in reaching out to trombone players.

The Christian Performing Artists' Fellowship
The Christian Performing Artist's Fellowship, based in Winona Lake, Indiana, sponsors an annual Music Festival called Masterworks Festival which is an undertaking of the highest order. It has been my pleasure to hold masterclasses and give recitals as part of the festival during several summers.

Crescendo is an international Christian music ministry based in Europe and is a ministry of Campus Crusade for Christ, International. Crescendo sponsors many concerts, serves as a networking resource for musicians and publishes an excellent newsletter. The Crescendo website may be viewed in German and English versions.

Credo is a summer program of intensive chamber music study designed to nurture the serious music student artistically and spiritually. Intensive coaching, teaching, and performance takes place at Oberlin College under the supervision of a world class faculty.

Toby Oft was appointed principal trombonist of the Boston Symphony in September 2008. He is a fine player and a great colleague and his website contains useful information for trombonists, from beginners to professionals.


Saint Louis Symphony Trombones Website
The Boston's Symphony's second trombonist, Stephen Lange, was formerly a member of the Saint Louis Symphony, where he and the rest of his trombone section colleagues formed the "Saint Louis Trombones." This is a fine trombone quartet and their debut release, 4.1, is superb.

Air-ev Productions is the publisher of both music and written materials by my former Boston Symphony Orchestra trombone section colleague, Norman Bolter. I am very keen on Norman's music and have been pleased to participate in many performances of his works. All musicians, but trombonists in particular, would do well to visit this site and learn more about Norman's music and his collaborations with his wife, Carol Viera, in The "Frequency Band" Endeavor. Norman's blog,
Frequency Bone is a very interesting and useful blog that brings readers close to Norman's view of music-making and interaction with the world through artistic endeavor.

My colleague, Ronald Barron, who is the retired principal trombonist of the Boston Symphony Orchestra, maintains a website with information about his recordings and resources (including masterclass notes) of interest to trombonists.

Wayne Wilcox is a talented designer and illustrator who has helped me with design work for several of my compact disc releases ("Le Monde du Serpent," "Proclamation" and "Cornerstone") and has also done excellent work for the North American Brass Band Association. If you need graphic design work, original artwork, or website design consultation, I cannot give a recommendation higher than I would give to Wayne and his company, Anderson-Wilcox. He is, in addition to being an excellent artist and communicator, a person of the highest integrity, and he is my first call when I need design help.


Lawrence Wolfe is assistant principal bass with the Boston Symphony Orchestra, a fine composer and a good friend. Larry has written a number of works which I have premiered, including Triptych for bass trombone and brass band which I recorded on my solo CD Proclamation and Wildfire for bass trombone and wind ensemble. His web site is quite extraordinary and makes use of RealAudio to provide spoken commentary about his many compositions as well as generous sound clips from many of them. This is a cutting edge web site that is well worth visiting and you will not be disappointed when you hear the music of this fine composer.


Steve Bulla is one of the most multi-faceted musicians I know. He is a gifted composer and arranger (he is chief arranger for "The President's Own" United States Marine Band in Washington, DC), an excellent conductor (he succeeded me as Music Director of the New England Brass Band upon my retirement from that position in 2008), adjudicator and clinician, and is a fine trombonist. I have played many of Steve's compositions as a trombonist (including his "Rhapsody for Bass Trombone" which I recorded on my CD, "Proclamation", and the New England Brass Band has performed many of his works including, "Images for Brass" which the NEBB recorded on its CD, "The Light of the World"). His website gives information about his broad range of musical activities.

The website of Peter Bassano is a delight. Peter was for many years a trombonist with the Philharmonia Orchestra in London but he has made a strong mark as a sackbut and early music specialist. Long time professor of trombone at London's Royal College of Music, he has been an important force in the London brass scene for decades. His website includes information about his activities as well as commentary on diverse musical and other artistic subjects. Highly recommended.

Bass trombonist of the Rotterdam Philharmonic, Ben van Dijk has a fine website with information about his recordings, tips on playing and many photos. His site also sponsors an active forum for bass trombonists to which I have contributed from time to time.

Dr. Harold M. Best is the Dean Emeritis of the Wheaton (IL) Conservatory of Music (my undergraduate alma mater) and Past President of the National Association of Schools of Music. His home page (which I designed) contains interesting and provocative articles on a variety of music related issues including "Music Curricula in the Future," "Musical Perception and Music Education," and "Creative Diversity, Authenticity and Excellence." An excellent site featuring the work of a man who is one of my mentors.

Other Colleagues
Below are links to websites of other colleagues, institutions, musical friends and former students who have websites containing helpful information for trombonists and other musicians.
PUBLISHERS and MUSIC/RECORDING DISTRIBUTORS

Hickeys Music Center is the first place I turn to when I need trombone music or recordings. They have a comprehensive catalog of materials for the trombonist and their website is easy to navigate and fully searchable. They also have a full line of trombone accessories including mouthpieces and mutes and their prices are excellent. Located in Ithaca, New York, Hickeys is known for excellent customer service and a commitment to serving the trombonist. Lest other instrumentalists feel left out, Hickeys also has large catalogues of music and recordings for other instruments as well.

Cherry Classics is owned and operated by Gordon Cherry, retired Principal Trombonist of the Vancouver Symphony Orchestra. While this high-volume, high-quality publisher particularly specializes in fine editions for trombones (including many excellent arrangements by Ralph Sauer, Professor of Trombone at Arizona State University and retired Principal Trombonist of the Los Angeles Philharmonic), Cherry Classics publishes music for all brass instruments. Many publications are available in electronic (PDF) format as well as traditional print format.

Located in North Easton, Massachusetts, Robert King Music Sales has been a long-time distributor of music for brass instruments. Founded by the late Robert King, the company features King's own library of arrangements of music for brasses as well as music from other publishers. With a searchable database of music and their affiliation with the French publisher Alphonse Leduc, Robert King Music Sales is a place I often turn to for music.

OMI - Old Manuscripts & Incunabula
OMI is a magnificent resource for anyone who truly wants to get to the source in exploring music. Over the years I have collected many facsimile manuscripts by various composers. Such editions are often beautifully made, exact reproductions of composer's scores while works were in various stages of composition. Seeing, for instance, Beethoven's frantic hand in the manuscript of his "Symphony 9" or Mahler's tortured writing in the sketches for his "Symphony 10" adds new meaning to my understanding of music. OMI is a leading dealer of facsimile manuscripts and I highly recommend them for their excellent selection, fair prices and excellent service provided by owners Steven and Olga Immel. Their website is easy to browse and well laid out with copious information for the musician, collector or enthusiast.


CEC Music is a publisher of music for brasses, specializing in arrangements for trombone and trombone ensemble. It features the work of Eric Carlson, trombonist with the Philadelphia Orchestra. Eric and I were classmates at Wheaton College (Illinos) for several years and we played together in the Baltimore Symphony for four seasons (1981-85). His publications are of an extremely high quality and I recommend them highly.

Amis Musical Circle is a publishing company and online retailer providing arrangements and compositions prepared by my friend Kenneth Amis, tuba player of the world renowned Empire Brass. From his site you can view and listen to samples of brass, woodwind, string and concert band music and purchase compact discs by various brass artists.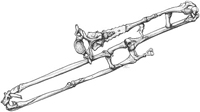 The Visual Humor of Don Stewart
A few years ago I got to know the work of artist Don Stewart who creates composite images that give a new twist to old things. A graduating student from Boston University gave me a framed copy of Don's "Trombones" (shown at left) as a thank you gift and since then I've been a big fan of Don's creative mind and skillful pen. At my request, Don has recently made a new drawing featuring historical instruments including serpent, buccin (the French form of trombone with zoomorphic bell), bass horn, cornetto and much more. "Medusa" is quite a girl! I now have a page on my website devoted to Don and his work, with links to his website where you can see his whole catalog of composite images and also purchase his limited edition prints (which are quite affordable). I like to talk up artists who add something to enrich our lives so I hope you'll check out this link with more information about The Visual Humor of Don Stewart.

AUDITIONS and JOB OPENINGS
INSTRUMENT SALES and REPAIR
MUSEUMS AND MUSICAL INSTRUMENT COLLECTIONS