---
Remembering Keith Rogers
1943 ~ 2008
A tribute by Douglas Yeo
---
Gerald Keith Rogers, serpent maker at Christopher Monk Instruments (CMI), passed from this world to the next on January 21, 2008 after a struggle with pancreatic cancer. He was 64 years old.
Born in Sussex, England, Keith (as he preferred to be called) studied music at the University of Wales at Bangor, taught in schools in Northern Ireland, and joined CMI in 1992. Having worked at CMI workshops in and around London for many years, he lived most recently in Norfolk, in the little village of Yaxham, with his wife of over 40 years, Kathryn. His workshop, where he made serpents and baroque oboes, was situated in a building behind his home.
Yet these bare details of a life are simply inadequate to describe the influence of such a man as he. After Christopher Monk's death in 1991, the future of serpent making - which in his hands had risen to a high art not seen since the mid-19th century - was uncertain, to say the least. Jeremy West took over the workshop in that same year, and persuaded Keith to join him in April 1992. Keith's expert wood working skills were paired with the fine metal and leathering skills of Nicholas Perry and together they made nearly 100 serpents between 1992 and 2007.
My first contact with Keith came in 1996. Having begun my exploration of the serpent in 1994 on a Harding fiberglass instrument, I concluded that a proper instrument was required. There was no doubt that I would order an instrument from CMI and after my initial contact with Jeremy I was referred to Keith. We began discussion of the type of instrument I would like (church serpent in C, no keys), the wood (we settled on walnut which was rather unusual, but it was a wood that would give the serpent a more robust sound when heard with modern instruments), and some special touches that interested me (Keith informed me that a carved head would not be possible but a two piece engraved bell mount in silver, with bocal and receiver to match, would add to the instrument's distinctiveness). I picked up the instrument at the CMI workshop (then in Greenwich) but missed Keith who was, at the time, visiting family in Australia. The serpent was spectacular in every way, and the next year, I performed Simon Proctor's Serpent Concerto with that instrument with the Boston Pops Orchestra conducted by John Williams, the first of five performances I would subsequently give of the piece with orchestral accompaniment. In 2007, at the 10th anniversary of my performance with the Boston Pops, John Williams kindly autographed a photo of himself alongside me, holding the serpent Keith made for me.
Keith and I continued our correspondence on matters serpentine. When I purchased the contrabass serpent, "George" (one of Christopher Monk's last instruments, completed in 1990, that was commissioned by Phil Palmer) from Phil Palmer's widow, Connie, Keith made a superb mouthpiece in boxwood after the original "Anaconda" mouthpiece. We finally met in 2001 when I brought my church serpent back to England (his CMI shop was by then located in the Forest Hills section of London) for installation of a B natural key and to pick up some mouthpieces I had asked Keith to make.
Yet there was so much more to this man. Yes, we enjoyed a professional friendship based on our shared obsession with the serpent. But Keith and I also shared a vibrant Christian faith and for many years we shared letters, phone calls and email messages in which we discussed points of theology, and how to work out our faith (in, as Keith often reminded me, "fear and trembling"). We shared sermons and articles we had each written, encouraging each other as we worked to be good stewards of what God had given us.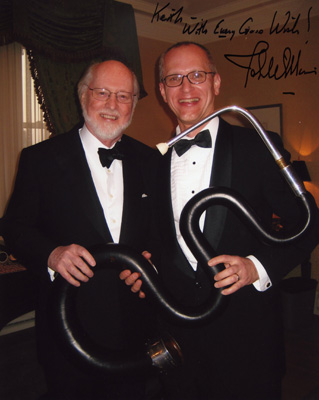 When Keith went in for surgery in May 2007 – and left the surgical theatre with no procedure being done due to the discovery of the already advanced spread of his cancer - he placed his life in God's hands. He – and we – prayed for a miracle. Keith's four daughters – Esther, Sarah, Ruth and Naomi – came to visit frequently. The email messages and phone calls Keith and I shared in the subsequent months showed him to be resolute in his faith and determined to get back to work again. But it was not to be. The relentless march of the cancer and related medical issues took their toll on his energy. The gravity of Keith's illness came as a blow to all who knew this robust, vibrant, loving man.
I was blessed to have a visit with Keith in September of last year. At the conclusion of a Boston Symphony Orchestra European tour, I drove up to Yaxham to spend two days with him and Kathryn, at their home, "Perkwood." In those days we shared, Keith seemed to posses a nearly super-human strength as he walked about his garden with me, picked fruit from trees and bushes, and engaged in deep conversations about serpent making, mouthpieces, varieties of wood, music, matters of faith and family, flowers and vegetables, and life in a small English village. He played the piano for me, at which time I learned he is a fine composer. I played his own python skin covered serpent for him and took delivery on an English Military serpent that Keith had made for me – his last instrument. And when I discovered a cracked mouthpiece of lignum vitae in his shop and said I would like to purchase it, he unceremoniously marched over to his lathe and turned down its shank so it would better fit the bocal. It turned out to be the last time he worked in his shop. To say that our time together was bittersweet inadequately sums up the intensity of the friendship that we shared. As I drove away, I knew that unless there was a Divine miracle of healing, it would be the last time I would see my friend.
After our visit, I contacted the world-wide community of serpentists, informing players and enthusiasts alike of Keith's illness and asking, if they were so inclined, if they would drop Keith a note to encourage him. In one of his last email messages to me, (December 14) Keith commented about the support that had been coming his way:
Meanwhile the continual awareness of great streams of prayer is still a wonder. One of the recent lovely developments has been that I have been getting, out of the blue, letters from CMI customers all over the world thanking me for how much joy the instruments have given them.
He received messages, cards and letters from serpentists in Britain, Europe, Asia, Australia and America. A few days later (December 17), he wrote again, what would be his last email message to me:
I am going pretty well at present, thank the Lord. My days are of course quiet and not physically active! – but interesting with all the family involvement and such care given to me and thought given to whatever aspect of my life they can make easier; I am truly blessed more than I can say. Still almost every day I hear from someone new – that is, a serpent player who has just heard of my condition. The Lord be with you and yours.
"I am going pretty well at present, thank the Lord." This from a man who was but a month from death. Such was Keith's spirit of optimism.
We had several brief phone conversations after that. As a surprise for him, I had arranged his Christmas carol, Dormi Jesu, for brass band, and sent him a score and recording of a performance I conducted with the New England Brass Band; he was deeply touched by the gesture, and he was so pleased that his music was reaching yet another audience. The ongoing outpouring of support from serpent players around the world continued to encourage him. In our last telephone conversation, just over a week before he died, he spoke again of the love and care he had been receiving from so many people (particularly from his family and devoted hospice care workers) and how he had put himself in God's hands. His voice was weak and frail, but his mind was ever clear.
When Keith passed away on January 21 he received the healing he had prayed for. No longer suffering and now free of pain, he joined the God he loved. It was left to those of us here on earth to mourn his loss and honor his memory. His funeral on February 2 (at All Saints, Mattishall) was a joyous time of remembering Keith as a friend, maker of instruments and servant of Christ; he was buried in the churchyard of St. Peter's Church in Yaxham. On April 19, on what would have been his 65th birthday, there was a concert at St. Michael's Church in Blackheath (London) – where Keith and Kathryn worshipped for many years and where Keith often preached and taught - that honored Keith by playing some of his music and his instruments. It was a wonderful time of celebration of the life of one we were all blessed to know.
Keith was my friend. And I miss him. Deeply. When I play the instruments and mouthpieces he made for me, I know his hand had lovingly moved over every square inch of them. I remember his smile, our conversations, and our correspondence. And I am the richer for having known this man – husband, father, craftsman, servant of the Lord. And I know many others feel this way as well.
Keith closed his December 14th email message with a characteristic benediction; as I read it, I can hear his voice:
Anyway dear brother, loving greetings from here. The Lord bless you all richly, and in whatever context, I look forward to our next meeting. Love from us here, Keith.
Of course, Keith knew the context in which we would next meet.
Requiem aeternam dona ei, Domine.
---
Photo captions:
Keith Rogers with Douglas Yeo, with English military serpent by Keith Rogers and Nicholas Perry (2007, in C, sycamore, three keys, after Pretty, c. 1840). Photo taken September 8, 2007.
John Williams with Douglas Yeo (photograph autographed to Keith Rogers), with French church serpent by Keith Rogers and Nicholas Perry (1996, in C, walnut, one key, after Baudouin, c. 1810). Photo taken May 24, 2007.
Keith Rogers in his workshop at "Perkwood," working on a mouthpiece. Photo taken September 9, 2007.
Keith and Kathryn Rogers in their home, with French church serpent by Keith Rogers and Nicholas Perry (2001, in C, sycamore with python skin, three keys, after Baudouin, c. 1810). Photo taken September 9, 2007.
---
Unless otherwise noted, all text and graphics on this website [yeodoug.com] are ©1996-2013 by Douglas Yeo.
All rights reserved.