---
SERPENT NIGHT AT THE
BOSTON MUSEUM OF FINE ARTS
---
"Douglas Yeo has become the major public defender of the serpent. . ."
The Boston Globe, April 17, 1998
---
On April 30, 1998, I participated in an extraordinary event at the Boston Museum of Fine Arts.
Those who know me or who have read my article Tempted by a Serpent know of my interest and love for that ancient musical instrument that has survived over 400 years in its original form. As a trombonist, there is something quite special about playing an insrument made of wood and leather, accustomed as I am to usually holding something of brass.
When Darcy Kuronen, Keeper of the Musical Instrument Collection at the Boston Museum of Fine Arts asked if I would be willing to participate in a lecture/demonstration about the serpent, it was easy to say an emphatic YES! The evening turned out to be great fun - those who came heard Gary Stewart, Conservator at the Wolfsonian Museum in Miami Beach, speak about serpent construction and history while I performed several pieces on various instruments and discussed the instrument's playing characteristics.
By examining the collection of serpents and related instruments in the Boston MFA collection, I learned a great deal and my interest has been piqued to learn even more. This was especially nice as the MFA only has room to display one serpent in its public collection - this was an opportunity to see all the instruments the museum owns.
UPDATE - 2008: In the years since this event at the Museum of Fine Arts, I have been pleased to give many more talks in the Museum's Musical Instruments Gallery. My relationship with the MFA has grown as I continue to do research on the serpent and related instruments and it is one of my life's great pleasures to visit the MFA with great regularlity and enjoy it fine collections.
The following photos will give viewers an idea of what happened on the "Serpent Night" at the Boston Museum of Fine Arts.
Several days before the lecture/demonstration, I visited the MFA Musical Instrument Gallery to talk things over with Darcy Kuronen. I brought along my Baudouin serpent (c. 1810) to test out the acoustics of the room (which were quite nice, although the low frequencies caused the light fixtures to rattle occasionally). In this photo, you can see several brass instruments behind me, including an E flat tuba on the right and keyed bugles and other trumpet-like instruments.
I brought with me two church serpents to demonstrate at the program. The first (left) is my 1996 church serpent in C, made by the Christopher Monk Workshop in London. It is a copy of a 1810 Church Serpent by Baudouin, constructed of walnut and covered with leather. The closeup below shows the beautiful walnut and the engraved bell mount, which reads, "Douglas Yeo, Boston Symphony Orchestra - September 1996 - Made at the Christopher Monk Workshops by Keith Rogers and Nicholas Perry." The bell mount, bocal and receiver are brass with silver plate.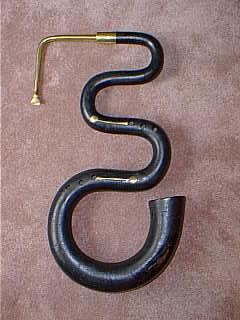 The other church serpent I brought to the MFA is a new item I acquired in Paris on the 1998 Boston Symphony European tour. It is a c. 1810 Church Serpent in C by Baudouin (France), made of pearwood covered with leather, with two keys (for b natural and f sharp). This is an extraordinary instrument, with its original ivory mouthpiece. The closeup (below) shows the stamp of Baudouin's workshop and evidence of a repair that was made over a century ago - the small pyramid shape pin gives a clue that a violin maker repaired the bottom bow of the instrument.
As I mentioned earlier, the MFA only has room to display one serpent in their permanent collection. Here is the museum's Baudouin serpent (1820) in situ, next to a buccin (International Trombone Association members will recognize this instrument as the "logo" of the ITA, based on a buccin owned by New England Conservatory). The serpent and buccin can be found immediately to one's left as you enter the gallery along with a "pavillon chinois" beter known as a "Jingling Johnnie" or a "Turkish Crescent," a percussion instrument used by Berlioz in his "Symphonie funebre et triomphale" and by John Philip Sousa in his march, "Nobles of The Mystic Shrine."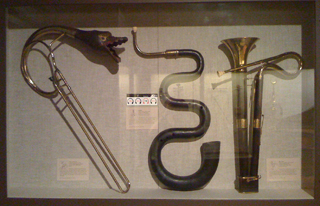 UPDATE - 2008: In 2007, the Museum of Fine Arts made some changes to the instrument gallery, including construction of a new case for one of its Baudouin serpents and buccin. Compare this photo to the one above; you will see that the "Jingling Johnnie" has been removed from the group and the English Bass Horn by Thomas Key has been added; in addition, all of the instruments are now under glass. You will also notice that there is a small card in the middle of the case, which indicates that the serpent is now included in the Museum's audio guide which was launched in May, 2008. I was privileged to take part in the MFA's musical instrument gallery audio guide by playing an etude by Jean-Baptiste Metoyen on the museums's Baudouin serpent and offering spoken commentary for the guide as well.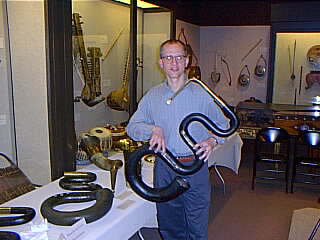 For the presentation, Darcy Kuronen had displayed six serpents and related instruments. Each instrument had a card carefully prepared giving information about it. Here I am holding my Baudouin serpent in front of the MFA collection.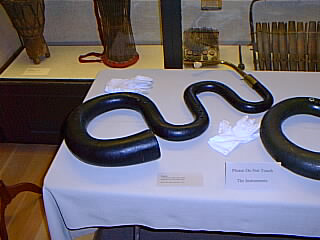 The serpent jewel of the MFA collection is their 1820 Baudouin keyless serpent (on the left end of the table). The card reads: Serpent, C. Baudouin, Paris, About 1820. Pearwood covered with leather. Leslie Lindsey Mason Collection, 17.1954. The bocal and ivory mouthpiece are not original to this instrument. While it has a bit of "worm rot" and is leaky, it is a fine specimen. Next to it (moving to the right, and shown only partially) is the museum's other serpent, another Baudouin which tag reads: Serpent, C. Baudouin, Paris, About 1820. Pearwood covered with leather. Gift of Joseph R. Coolidge in memory of his wife, Peggy Stuart Coolidge. 1981.760. Note the ivory inserts in the six holes on the serpent which were added sometimes to either improve pitch (the technique usually did not succeed) or help the player locate the holes more easily.
Moving further down the table to the right, this photo shows the collection's second Baudouin serpent mentioned above and an interesting instrument (I don't recall the details about this instrument) made of an animal horn with brass mouthpiece and brass bell - a truly remarkable sound. To its right is an English Bass-horn, Thomas Key, London, about 1830. Hardwood body, brass trim, 3 round keys on pillars. Gift of Goseph R. Coolidge in memory of his wife, Peggy Stuart Coolidge, 1981.767.
At the end of the table are two bass horns (above), a bit further down the evolutionary chain that began with the serpent. The instrument on the left is: Bass-horn, unknown maker, England, about 1800. Brass, 4 round keys in saddles, Leslie Lindsey mason Collection, 17.1956. To its right is: On its right is an upright serpent (known also as a "Russian Bassoon" although it is neither Russian nor a bassoon) - basically a serpent that is made in two straight tubes with a curve at the bottom. It is described as: Upright serpent (Russian bassoon), unknown maker, possibly Belgium, about 1820. Maple body, brass trim, 4 round keys in saddles. Leslie Lindsey Mason Collection, 17.1955. This instrument was recently restored by Gary Stewart and is a truly beautiful instrument.
The program opened with a welcome and introductions by Darcy Kuronen, followed by my playing two short items, Rule, Britannia on my Christopher Monk serpent (1996, London) in tribute to the Englishman who is credited with much of the modern revival of the serpent, and La Marseillaise performed on my Baudouin serpent (c. 1810. France), in honor of those Frenchmen who played such an important role in the invention and development of the serpent.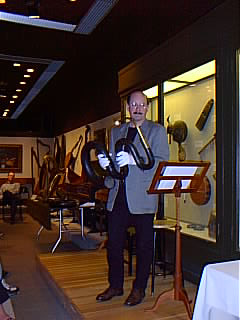 Gary Stewart (right) then spoke on the history and construction of serpents, drawing from his dissertation on serpent construction (he built a serpent himself in order to study how they are made). Here he is holding one of the MFA Baudouin serpents (note he is wearing gloves so as to protect the instruments). I can be seen sitting at the end of the gallery listening to Gary's remarks.
Following Gary's presentation, I took the floor to demonstrate serpent playing and discuss their playing characteristics. I performed several serpent etudes from French serpent method books, some plain chant (serpents were created originally to accompany the singing of chant in the Roman Catholic Church). I also performed an excerpt from Berlioz' Messe solennelle and some of Simon Proctor's Serpent Concerto which I performed in 1997 with the Boston Pops Orchestra and the Boston Classical Orchestra. Between my live excerpts, I played recorded examples of serpent playing in context, featuring performances by the great French serpentist, Michel Godard, and myself.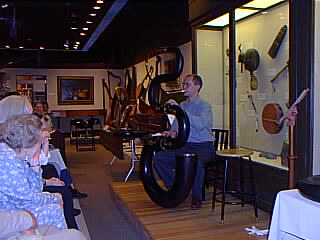 I had yet two special surprises for those in attendance at the event. Commissioned by Phil and Connie Palmer, and through Connie's generosity, the Anaconda serpent, "George" (so named because he was completed on St. Georges' Day - April 23, 1991) had been shipped to Boston for the evening. The Anaconda is 16 feet long, twice as big as a regular 8 foot long church serpent. Made by Christopher Monk in 1989, it is not an exact copy of the only other Anaconda (1840, Huddersfield, England; now in the Edinburgh Museum), but was inspired by it. It was one of the last serpents Christopher Monk completed before his death in 1991. [NB. In 2000, Connie Palmer made a decision to part with "George" and in November 2000, I was happy to welcome this remarkable instrument to my collection.]
"George" has a remarkable sound, an octave lower than a C church serpent. His six keys have pads rather like a saxophone that cover the large holes. I played several pieces for the audience including the Dies irae chant, Old Man River (somehow it just seemed appropriate) and the "Hornpipe" from Handel's Water Music. When I played the pedal 16 foot C, George's lowest note, at least one person present reported his sinuses cleared!
There was yet one surprise left for the audience. Since I had the world's largest serpent in the room, it only seemed appropriate that the world's smallest serpent make an appearance. Through the generosity of my friend, Craig Kridel, I was able to demonstrate one of Christopher Monk's "worm" serpents - one that was owned by Christopher Monk himself.
I played La Marseillaise on the "worm" which was great fun - it is a soprano serpent, 1/4 the size of a standard 8 foot long serpent. While Christopher Monk originally made the "worm" as a novelty item, I felt it important to actually play some music on it which I did, with some difficulty (my bass trombone trained embouchure was not entirely happy with the small wooden mouthpiece on the "worm"!). There has been, in fact, a piece composed that utilizes the "worm" (the Amherst Suite by Simon Proctor. As you can see, the "worm" is a bit awkward to hold (and also is without any historical precedent) but playing it made a great conclusion to a memorable evening.
One of the nicest things about the event was the fact that many friends came to watch and listen. Among them were two serpentists who travelled great distances just to be a part of a gathering that was about the serpent. Pictured above are Therese (Tra) Wagenknecht (left) from Virginia who is the person who most frequently played "George" when that instrument was owned by Connie and Phil Palmer, and Paul Schmidt (right, holding my Baudouin serpent) of Illinois, Editor of the "Serpent Newsletter." It was wonderful of them to come and lend their support.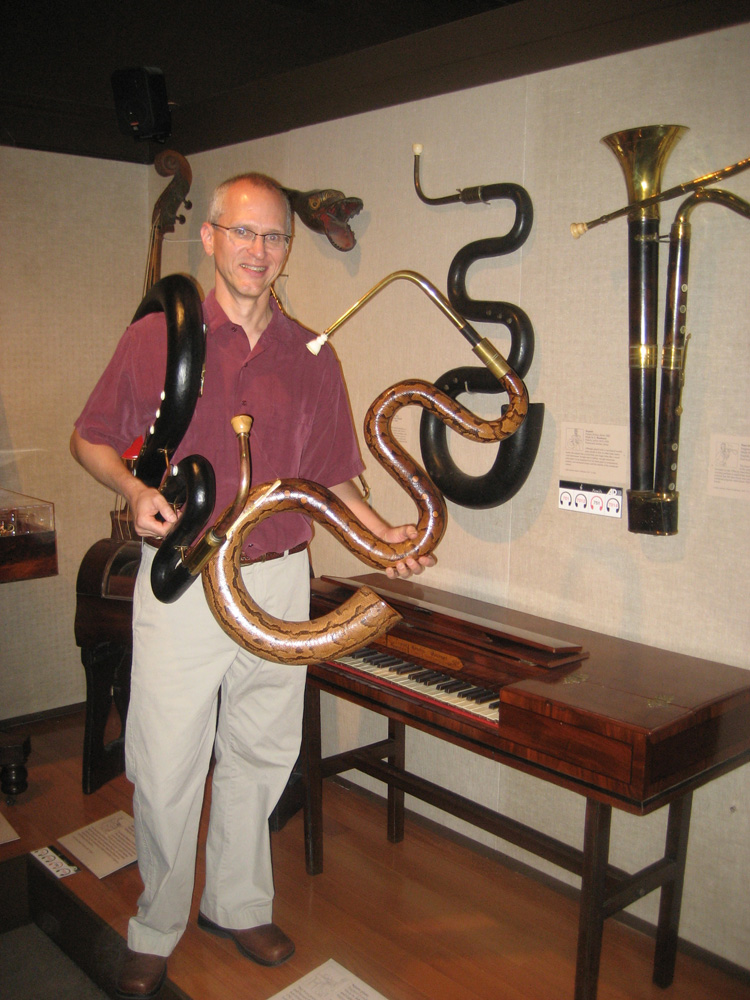 On August 1, 2010, I returned to the MFA for another serpent demonstration/discussion, this time as a presentor of one of the Museum's monthly lunch time events. The serpents have now moved to a different place in the gallery and the photo here shows me in front of the MFA's serpent by Baudouin (formerly owned by Canon Francis Galpin) and its English bass horn by Thomas Key. I am holding an English military serpent and a church serpent covered by a pre-ban python skin, both made by the late Keith Rogers, serpent maker for Christopher Monk Instruments.
Those interested in more information about the serpent should visit The Serpent Webpage which Paul maintains which is the most informative place on the web concerning serpents.
These types of events always end too soon for me - there seems to be so much more to talk about and enjoy - but the good news is that I will be back at the MFA to further explore their serpent collection, and those which are owned by the Boston Symphony as well. Watch my site for further serpent updates, and visit my website's gateway page for information about the serpent for even more information about this fascinating instrument.
---
Unless otherwise noted, all text and graphics on this website [yeodoug.com] are ©1996-2013 by Douglas Yeo.
All rights reserved.