---
Remembering and Giving Thanks
Douglas Yeo's Comments at the Induction Ceremony for the 2010
Hewlett-Woodmere Alumni Association Hall of Fame (Hewlett, New York)
May 2, 2010
---
Having been born in Monterey, California in 1955 and living in the Glen Oaks section of Queens, New York from 1955-1960, my family moved to Valley Stream, New York, where I began school at Hewlett Elementary School in September 1960. From then through June 1971, I attended schools in the Hewlett-Woodmere system, continuing from elementary school through Woodmere Junior High School North and finally to George W. Hewlett High School. In the summer of 1971, my family moved to New Jersey where I graduated from Jefferson Township High School in 1973.
The Hewlett-Woodmere Alumni Association Hall of Fame recognizes alumni of the Hewlett-Woodmere school system who have gone on to make an impact on their occupations and society, and is designed to encourage current students at Hewlett High School by showcasing alumni of the school system. I was honored to have been nominated by my friend, Dr. Scott Friedman (Fishberg Professor of Medicine and Chief of the Division of Liver disease at Mt. Sinai Medical Center, New York City) who, in addition to going to junior high and high school with me, also played trombone along side of me.
The induction ceremony provided me with an opportunity to revisit - for the first time in nearly 40 years - the neighborhood where I grew up and the schools I attended. Below is the text of my comments I made on May 2, 2010, when I accepted my Hall of Fame induction plaque, along with some photos of my time in the Hewlett-Woodmere schools. It was a time of reflection as I looked back on the influence of many people during the 11 years I lived in Valley Stream and attended the Hewlett-Woodmere schools.
---
Thank you. To all of you – officers of the Hewlett-Woodmere Alumni Association, fellow Honorees, parents, students, well-wishers and friends – I offer my thanks for this singular honor and my gratitude for your sharing this moment with me. I especially want to thank Carol Harrison for her kind, helpful and efficient communication on behalf of the Association, and my dear friend, Dr. Scott Friedman, fellow Honoree who was inducted into the Hall of Fame in 2005, for his nomination of me to join this distinguished group whose faces hang upon a wall here in George W. Hewlett High School.
My life has divided into easily memorable segments that allow me to keep track of things. Born in 1955, I was married in 1975, and joined the Boston Symphony Orchestra in 1985. The tale behind those years is the fact that this year, I turn 55 years old, celebrate the 35th anniversary to my beloved wife, Patricia, and conclude my 25th season as bass trombonist of the Boston Symphony. Big numbers, and cause for reflection.
The fact that I was born in California is remarkable only for its distant location – the land of fruits and nuts - for only a few weeks after my birth, my father was discharged from his Army responsibilities at Fort Ord in Monterey – not a bad place to spend the Korean Conflict – and my father, mother and I travelled across country by train and moved into a little garden apartment in Glen Oaks, Queens, from where my father joined his father in business in Manhattan. As I approached school age, we headed for the suburbs and mom and dad bought a postage stamp of a house in 1960 in the Gibson section of Valley Stream, 204 Stuart Road, which, due to a peculiar drawing of the school district boundaries, meant that I would attend school in Hewlett.
My years in the Hewlett-Woodmere schools are a jumble of memories, some of which are outstanding in their vivid colors even as most occurred in a black and white world. Names – faces – events. As I rattle some off, many of you will remember them as well:
Hewlett Elementary School. Principal Michael Plantamura. Planting a tree with my class in the Kindergarten playground on Arbor Day, 1961. Sitting in the auditorium on February 20, 1962 and watching – on a small black and white television on a cart positioned on stage - John Glenn blast off into orbit. Seeing my third grade teacher burst into tears when the announcement came over the PA system on November 22, 1963, that President John F. Kennedy had been assassinated. Learning the flutophone with Mrs. Vosburgh in music class, and starting the trombone in 1964. Actually, I wanted to play the trumpet, but by the time my band director got around to people whose last name began with "Y," the trumpets were long gone and I trudged home with a trombone, despondent only until I put it together and blew my first note, and a lifetime in music opened up to me. In 1966, I wrote regularly to my sixth grade teacher's son, Carl Hyeknundsen, who was serving in Vietnam. War became very real – much more real than watching "Combat" while sprawled out in front of our television set at home.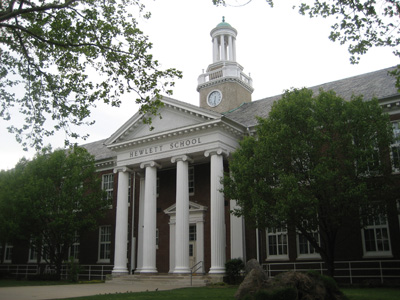 And then, Woodmere Junior High North. Riding my bicycle to school every day, stopping to get a bagel each morning on the way – for two cents. My life in music began to blossom under the guidance of Mr. Taylor, our band director. I recall the Junior High jazz band – stage band? dance band? – playing, "Here's That Rainy Day." I had a solo, and so did Georgie Vosburgh – who, while a couple of years younger than me, was the band's singer. I ran fast and jumped high on the track team, had my first pair of spiked shoes. I was beginning to feel the tension inherent in having two distinct groups of friends – my school friends who were mostly from Hewlett and Woodmere, and my church and Boy Scout friends, who were mostly from Valley Stream and attended Grace Methodist Church. Attending church confirmations and Bar mitzvahs; knowing far more Yiddish than I did the Spanish I was struggling with each day in class.
In 1970, Hewlett High School beckoned. In those days, high school was for grades 10, 11 and 12, and it was a new world. My class added in new faces from Woodmere Junior High South. I went out for cross country, but had to make a decision between fall sport and marching band. Actually, there was really no decision to make. Stephen B. Work had me under his spell. This gifted band director saw something in me that I didn't know I had. He challenged, pushed and encouraged me. I took my first audition for all-state – and got in – and my life increasingly centered around the band room. My closest friends were in the band – Scott Friedman, Joe Gold and I were dubbed the "Joe-Yeo-Sco" trombone trio. Toni Lipton, Neil Vineberg, Nancy Rosenberg – these are perhaps only names to you, but to me, they represent a coming of age, a new dawn, and my first peer role-models in music.
And then, just as all of this was going so splendidly – well, not all of it, since my grades were not spectacular due to the fact that I was found in the band room all day long rather than in science or social studies class - disaster struck. I came home from school one afternoon and my mother told me we would be moving. To New Jersey. While our new home was only 60 miles away, it might as well been in Siberia, for at age 16, I would have to leave behind all that was so important to me. My mentor-teacher, Steve Work. My friends. My Boy Scout troop. My church youth fellowship. A budding romance. It was all to be left behind as my father changed jobs and we packed up and moved to a far corner of the earth.
I was devastated, but life went on. What could I do? My new high school did not have a music program that was anything like what I left behind in Hewlett. But I pressed ahead, taking with me the lessons I learned from so many in these halls. I kept practicing the trombone and having success with it; I met a girl who became my wife a few years later, and then it was off to college and beyond.
And so I am here today. This honor is not something I ever imagined would come to me. After all, I didn't graduate from George W. Hewlett High School. That opportunity was taken from me, and it is Jefferson Township High School whose name appears on my 1973 diploma. Yet I am so grateful to the Association for inducting me into the Hall of Fame in spite of this, as I feel I represent the many students who, for one reason or another, spend years in the Hewlett-Woodmere schools but do not graduate here. It happens all the time, and I know how difficult it is to be uprooted from all that seems important at such a critical time in life.
Yet my 11 years in the Hewlett-Woodmere schools left their mark on me. And as I have continued in my career – from college in Wheaton, Illinois back to New York City and graduate school at NYU, my years as a free-lance trombone player in Manhattan playing with the Goldman Band and Broadway shows, working a day job at the national office of the Anti-Defamation League of B'nai B'rith on Lexington Avenue – where, as the only goy in the building apart from the cleaning help, my Yiddish was more than helpful - two years as a High School band director in Edison, New Jersey, four years in the Baltimore Symphony and now a quarter of a century in the Boston Symphony and teaching at New England Conservatory of Music – I call to mind frequently the lessons I learned in the turbulent 60s in three schools here in Hewlett.
Lessons of friendship, patience, forbearance, discipline, hard work. The necessity to deny present pleasures in order to reap future rewards. As I was shown kindness and mercy by teachers like Steve Work, Edward Taylor, Mrs. Vosburgh and Mr. Plantamura, so I have tried to do so in my own teaching. I learned role-modeling from them – they lived what they taught and they taught me to do the same. My Christian faith has been the compass that has guided my life. I do not believe in luck or chance, but rather in the guiding hand of a Sovereign God. I'm aware that every experience of my life is ordained for a purpose, and I rejoice in the opportunity to be a good steward of the talents and abilities that God has given me. But the people He has put in my path throughout my lifetime – starting with those in my earliest memory from age five in kindergarten at Hewlett Elementary School – are all a part of the tapestry of my being. As I look back and reflect on all of this, I count myself a very blessed man.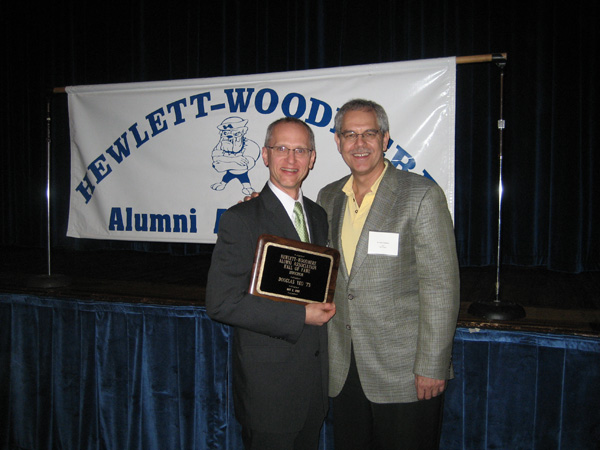 With a trombone in my hand, I have travelled around the globe more times than I can count, have performed thousands of concerts, and have worked with the world's finest conductors and soloists. I've played my trombone at a Super Bowl, an NBA finals, a World Series ring ceremony. I've been fortunate to have many gifted students walk into my studio at New England Conservatory of Music where I pass on to them the collective wisdom of the many people who have influenced me over my lifetime. All of that started here, in the Hewlett-Woodmere schools. This is a place where God put people in my path to point the way. I didn't understand it fully at the time, but with the benefit of hindsight, I see it now so clearly.

I am aware, as were my teachers, that I have a great responsibility in leading the next generations. I take this responsibility very seriously. Every night before I go to bed, I call to mind G.K. Chesterton's poem, Evening:

Here dies another day
During which I have had eyes, ears, hands
And the great world round me;
And with tomorrow begins another.
Why am I allowed two?

With each day – days that are numbered although I know not how many there will be – I purpose to return to others the gifts that have been given to me, to return the investment that my teachers and mentors and friends have made in me so that others will benefit from the lessons I learned from them. Stephen B. Work and Edward Taylor and Michael J. Plantamura no longer walk the halls in the Hewlett-Woodmere Schools. But today, their shadows are in this very room. Because I and others who were influenced by them are here. If there is anything I pray will come from my being inducted into the Hall of Fame, it is that students that see my photograph on the wall will be inspired to carry on for another day, and will take to heart the lessons they have in turn learned from those who are walking side-by-side with them in school today, and who will walk with them for the rest of their life.

So, to you in the Association who elected me to this honor, I am very grateful. I accept this with a deep sense of gratitude for all those who taught, befriended and cared for me from 1960-1971, whose teaching, words, acts of kindness, friendship and inspiration I carry with me every day and strive to pass on to others.

Thank you.
---
Text of Douglas Yeo's Hewlett-Woodmere Alumni Association Hall of Fame plaque:
ALUMNI HALL OF FAME
Hewlett-Woodmere Alumni Association
HONORS

DOUGLAS YEO - 1973
In recognition of his distinguished accomplishments as an international performing artist playing bass trombone for 25 years in the Boston Symphony Orchestra (BSO), 10 years directing the New England Brass Band, and a faculty member of the New England Conservatory of Music. He has been soloist wih the BSO, Boston Pops and Baltimore Symphony Orchestras. His world-wide masterclasses, award-winning recordings and participation in BSO Youth Activities are impressive. He published numberous articles in journals, newsletters and programs and co-authored Mastering the Trombone. His extensive musical abilities include playing serpent, ophicleide, bass sackbut, bass trumpet and contrabass trombone. He collaborated with YAMAHA to produce a bass trombone and a mouthpiece that bears his name.
---
Photo captions (top to bottom, left to right):
Douglas Yeo, age 6, Hewlett Elementary School, September 1961

Douglas Yeo, age 7 (in the sailor costume), Hewlett Elementary School, October 31, 1962

Hewlett Elementary School, May 2010

Douglas Yeo, age 9, playing trombone at home (with his youngest brother, Curtis, holding a guitar), March 1965

Douglas, Gregory and Curtis Yeo, first day of school, September 1965.

Douglas Yeo, age 15, in George W. Hewlett High School marching band uniform, September 1970

Douglas Yeo and Dr. Scott Friedman in George W. Hewlett High School auditorium, May 2, 2010
---
Unless otherwise noted, all text and graphics on this website [yeodoug.com] are ©1996-2013 by Douglas Yeo.
All rights reserved.