---
The Eugene Adam Collection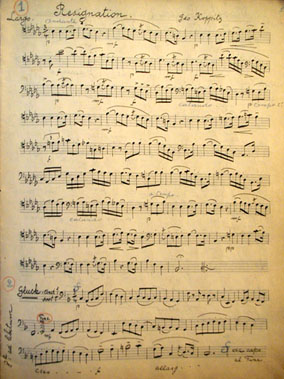 Eugene Adam was born in Paris on 18 July 1881 and attended the Paris Conservatory where he won the First Prize in 1903. He joined the Boston Symphony in 1918 as principal trombone and moved to Assistant Principal Trombone in 1919 after an ill-fated strike which resulted in the firing and demotion of 30 members of the orchestra. In 1920, he began playing some tuba in the orchestra before moving exclusively to tuba from 1934 until his retirement in 1947. The photo of Adam above was taken during the 1928-29 Boston Symphony season. Upon his retirement from the Boston Symphony, he played tuba in the Saint Louis Symphony until 1955. Eugene Adam died in 1961.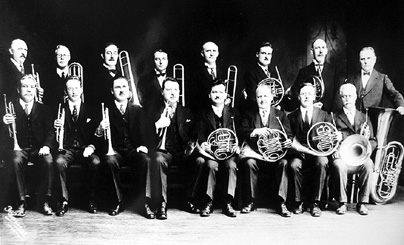 The Boston Symphony Brass Section, c. 1926. The trombone players, from left are: Leroy Kenfield (bass),
Eugene Adam (assistant principal), Lucien Hansotte (second), Joannes Rochut (principal). The tubist is Paul Sidow.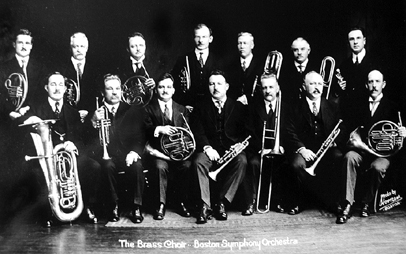 The Boston Symphony Brass Section, c. 1921. The trombone players in the back row are: Leroy Kenfield (bass), A. Mausebach (second). Adam is in the front row holding his tuba; trombonist Carl Hampe (principal) is also in the front row.
While in Saint Louis, Adam played with bass trombonist Kauko Kahila who joined the Boston Symphony in 1952 (he retired from the BSO in 1972). Upon his retirement from Saint Louis, Adam remembered his friend Kahila and gave him a large box of hand written manuscripts (and a single published manuscript, Joannes Rochut's arrangement of the Bach two part inventions for two trombones), many of which are forming this online collection of material called the Eugene Adam Collection. Kauko Kahila gave Adam's music to me several years ago and it is my pleasure to make it available to the public in the form of free, downloadable .pdf files.
Several portions of Adam's collection are being made available on my website. The first, uploaded in October 2001 is a 49 page collection Adam called Solos for Trombone. Subsequent uploads of Adam's music will include a volume of duets for two trombones and a volume titled Sonatas. The second part of Adam's collection to be made available is Johannes Rochut's arrangement for two trombones of the Bach Two Part Inventions (uploaded March 2002).
The pages which make up The Eugene Adam Collection were photographed with a high resolution digital camera and transferred to .pdf format for easy download. In addition, trombonist Thomas W. Cox is helping make this material even more widely accesible by converting Adam's manuscript into Finale format which is also available for free download in .pdf format.
While this music is being offered for free, it is copyrighted by me, © Douglas Yeo, 2001, 2002. The copyright is to ensure that this material will not be downloaded and subsequently published and sold for profit. The copyright is merely to protect the material from being used for personal gain. It is my intention, and I am certain Adam would approve, that this material be made available free of charge to trombonists and other musicians in order to bring us closer to the style of playing and teaching which existed 100 years ago. Permission is granted for individuals to download unlimited copies of this music for personal use. Publication and/or sale of this material is prohibited.
---
---
Unless otherwise noted, all text and graphics on this website [yeodoug.com] are ©1996-2013 by Douglas Yeo.
All rights reserved.