---
APPROACHING THE SERPENT:
AN HISTORICAL AND PEDAGOGICAL OVERVIEW
with
DOUGLAS YEO
Douglas Yeo's full length DVD
Available in NTSC (USA, CANADA, JAPAN and other countries) and
PAL (UK, EU, AUSTRALIA and other countries) formats - all regions
This project was funded, in part, with grants from Berlioz Historical Brass and New England Conservatory of Music
Produced and Directed by Douglas Yeo
Craig Kridel, Co-Director
Martin Ainger, Videography, Sound and Editing
Wayne Wilcox/Anderson Wilcox LLC, Package Design
Tom Daly/Crooked Cove Records, Disc Production
BHB DVD 001 ~ Total running time = 1 hour 53 minutes
Approaching the Serpent: An Historical and Pedagogical Overview was recorded in June 2009 at the
Joe R. and Joella F. Collection of Brass Instruments of the National Music Museum, University of South Dakota (USA)
---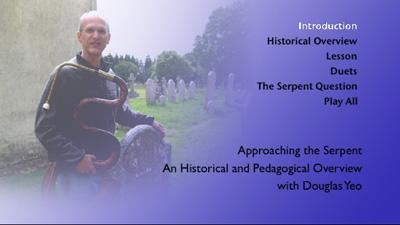 For over 400 years, the serpent has challenged players and fascinated listeners with its unique shape and sound. In this video - the first of its kind - Douglas Yeo (bass trombonist of the Boston Symphony Orchestra) gives the viewer a comprehensive look at the serpent. Part One features an historical overview of the traditional French church serpent, and many other forms of serpents and bass horns - including English military serpents, serpent Forveille, serpent a pavillon, early cimbasso, ophimonocleide, English bass horn, bass cornetto and the great "Anaconda" contrabass serpent - are shown and demonstrated, many for the first time in an audio or video production. Part Two is a serpent lesson, where Douglas Yeo guides the beginning serpent player through a practical approach to the instrument. In Part Three, the viewer can play along with Douglas Yeo in a series of serpent of duets taken from 19th century French serpent method books. Several of these duets are done in both slow and faster tempos to allow players to to enjoy the music in different ways. Finally, Part Four answers the questions one may have about the serpent: where to purchase an instrument, music and recordings, how to get more information about the instrument, and an introduction to the "Rogers mouthpiece," especially made for modern baritones and euphoniums to give today's players an entry into the sound world of the serpent. Also included on this disc are PDF files of all music played on the video including exercises, warm ups and duets.


Approaching the Serpent: An Historical and Pedagogical Overview invites viewers to view the program as a continuous track, or select individual instruments or duets. Available in both NTSC (United States) and PAL (United Kingdom and Europe) formats and manufactured to be compatible on DVD players and computers in all regions, this standard-definition DVD will display all content on all types and sizes of DVD players and television sets as well as all computers and computer monitors that will play DVDs.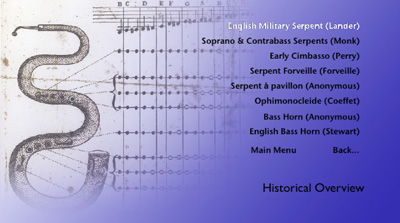 About Douglas Yeo:
Douglas Yeo has been bass trombonist of the Boston Symphony since 1985. A graduate of Wheaton College, Illinois (BMus, 1976) and New York University (MA, 1979) he began playing serpent in 1994 for performances of Hector Berlioz's Messe solennelle by the Boston Symphony in Boston, New York and Tokyo under the direction of Seiji Ozawa. Since that time he has become one of the world's leading exponents of the instrument, giving solo recitals, lectures and demonstrations, performing as soloist with orchestra (including performances of Simon Proctor's Serpent Concerto with the Boston Pops Orchestra conducted by John Williams), playing as a member of modern and early music ensembles and releasing his critically acclaimed CD release on the Berlioz Historical Brass label, Le Monde du Serpent. His serpent playing is heard on audio guides for museum collections around the world. In addition to serpent, his early music explorations also include extensive performances and research on ophicleide, buccin and bass sackbut. He is on the faculty of Boston's New England Conservatory of Music.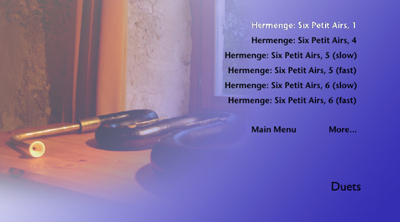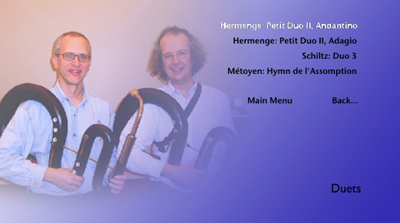 Click on the YouTube images below to preview two short segments from APPROACHING THE SERPENT: AN HISTORICAL AND PEDAGOGICAL OVERVIEW:
---
In addition to being available - along with my other compact discs, books and other products -
directly from me through an order form on my website,
APPROACHING THE SERPENT: AN HISTORICAL AND PEDAGOGICAL OVERVIEW is also available from select dealers in the USA and around the world including:
Hickeys Music Center (Ithaca, New York), Warwick Music (Coventry, UK),
and the Boston Symphony Orchestra Gift Shop (Boston, Massachusetts).
---

Unless otherwise noted, all text and graphics on this website [yeodoug.com] are ©1996-2013 by Douglas Yeo.
All rights reserved.