---
Daniel Chester French
"Asia"
---
Daniel Chester French's sculpture of "Asia" shows the continent sitting motionless, representing the place where so many religions were born. She holds a scepter of a poppy bloom (at the time, parts of Asia were well known for their opium trade) and a statue of an eastern diety/idol in her lap. Behind her right shoulder, a cross is emerging, representing the beginning of the Christian missionary effort in Asia. While it is not possible to see in these photos due to the angle they were taken, "Asia's" feet rest upon a stool which sits on human skulls, indicative of the many people killed in slavery and through forced labor.
All photos below were taken by Douglas Yeo in March 2003 and July 2004.
A front view of Daniel Chester French's "Asia." On the left is a tiger, behind her an emerging cross, and a grouping representing hopelessness is on the right. "Asia" sits on a throne which is supported by human skulls.
A left front view "Asia."
A left rear view of "Asia," showing more of the tiger.
A right view of "Asia." The three figures, one of which is bound, represent, in French's words, "the hordes of India, and the hopelessness of the life of so many of the inhabitants."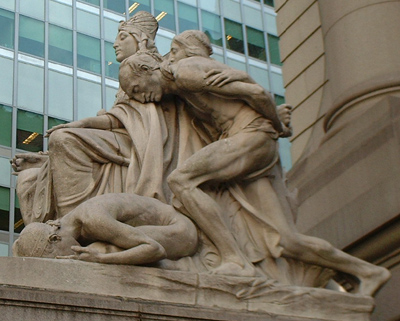 Another view of the right side of "Asia."
Return to the Daniel Chester French: Sculptures In Situ page | Return to the Daniel Chester French: Continents page
---
Unless otherwise noted, all text and graphics on this website [yeodoug.com] are ©1996-2013 by Douglas Yeo.
All rights reserved.