---
Daniel Chester French
"Joseph Hooker"
---
Daniel Chester French's monument to General Joseph Hooker (1814-1879) honors the Hadley, Massachusetts native who was a General in the American Civil War, commanding the Union forces' "Army of the Potomac" for a time. While he distinguished himself in many battles, he is perhaps best known for his defeat by General Robert E. Lee at the Battle of Chancellorsville in 1863.
French's statue is actually a collaboration with Edward C. Potter; French modeled the likeness of Hooker and Potter modeled the horse. French worked on his sculpture from 1896-1903; it was funded with an appropriation from the Commonwealth of Massachusetts and dedicated in 1903. Its placement makes it difficult to obtain good photos of Hooker owing to its height, the steps at the front of the statue and the great number of trees surrounding the area.
The Joseph Hooker monument is located on the south lawn of the State House in Boston, Massachusetts.
All photos below were taken by Douglas Yeo in September 2007.
A view of the "Joseph Hooker Monument" from below, left.
The "Joseph Hooker Monument" from below, front.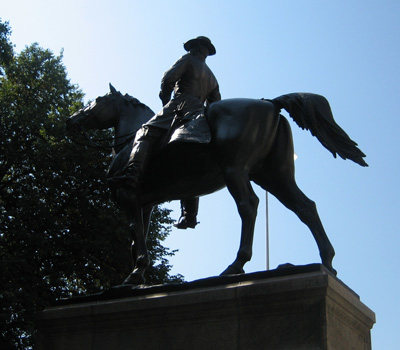 This view of the "Joseph Hooker Monument" from the right, rear gives a better view of Edward C. Potter's equestrian statue.
The base of the monument features the seal of the Commonwealth of Massachusetts.
French's rendering of Hooker shows him looking intently ahead.
Return to the Daniel Chester French: Sculptures In Situ page.
---
Unless otherwise noted, all text and graphics on this website [yeodoug.com] are ©1996-2013 by Douglas Yeo.
All rights reserved.