---
Daniel Chester French
"Thomas Starr King"
---
Daniel Chester French's monument of Thomas Starr King is one of only two of his works that are placed in California; the other is "The Republic" in Forest Lawn Memorial Park, Court of Freedom.
Thomas Starr King (1824-1864) was a Unitarian Minister who was credited by Abraham Lincoln with preventing California from becoming a separate Republic. Born in New York City, he pastored several churches in Massachusetts before moving to San Francisco in 1860 to pastor First Unitarian Church. Nicknamed, "the orator that saved the nation" for his fierce advocacy of the Union, King was honored with a peak named for him in Yosemite National Park (Mount Starr King, at 9,092 feet above sea level). In 1913, King was voted one of California's two greatest heroes and a statue of him by Haig Patigian was cast and placed in the National Statuary Hall Collection in the US Capitol Building. In 2006, the California State Legislature voted to replace King's statue in the Capitol with one of President Ronald Reagan.
French worked on his statue of Thomas Starr King from 1888-1892. The base of statue reads:
THOMAS STARR KING

IN HIM ELOQUENCE, STRENGTH,
AND VIRTURE WERE DEVOTED
WITH FEARLESS COURAGE TO TRUTH,
COUNTRY AND HIS FELLOW MEN.

1824-1864
"Thomas Starr King" is located in Golden Gate Park, at the intersection of John F. Kennedy Drive and Hagiware Tea Garden Drive in San Francisco, California.
All photos below were taken by Douglas Yeo in February 2009.
The "Thomas Starr King" monument in situ, with its imposing granite base.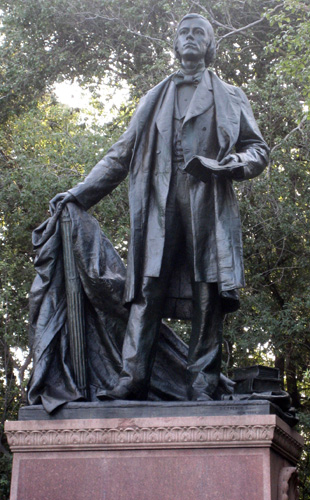 A close up view of French's "Thomas Starr King" monument.
This is a view of the back of French's "Thomas Starr King" monument.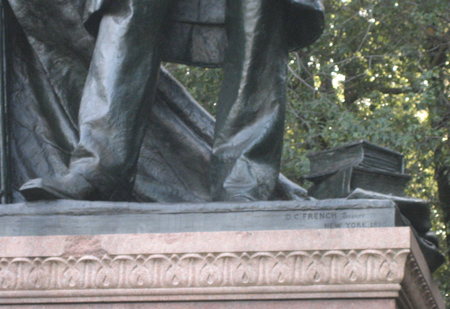 A close up view of the base of French's statue, showing French's signature: D.C. FRENCH Sculpt., NEW YORK 1890.
Return to the Daniel Chester French: Sculptures In Situ page.
---
Unless otherwise noted, all text and graphics on this website [yeodoug.com] are ©1996-2013 by Douglas Yeo.
All rights reserved.