---
Daniel Chester French
"Wendell Phillips"
---
Wendell Phillips (1811-1884) was born in Boston, graduated from Harvard University and Harvard Law School and went on to be one of the leading abolitionists in America during the mid-19th century. Like many abolitionists, Phillips welcomed the formation of the Confederacy in opposition to Abraham Lincoln, arguing that doing so removed the scourge of slavery from the United States' government. Through the Civil War, Phillips spoke frequently and passionately about the evil of slavery, although, frustrated with Lincoln, he did not support his re-election in 1864. After the emancipation of slaves and the end of the civil war, Phillips turned his oratorical skills to the issues of women's rights, universal sufferage, temperance and the labor movement.

Daniel Chester French was commissioned to make his rendering of Phillips by the Boston City Council; he worked on it from 1913-1915 and it was dedicated in July, 1915. Above the statue of Phillips are the words:

WHETHER IN CHAINS OR IN LAURELS
LIBERTY KNOWS NOTHING BUT VICTORIES

The base reads:

WENDELL PHILLIPS
1811-1884
PROPHET OF LIBERTY
CHAMPION OF THE SLAVE

"Wendell Phillips" is located in in the Boston Public Garden, at the southwest corner of the Garden at the intersection of Arlington Street and Boylston Street, across from the Arlington Street Church.

All photos below were taken by Douglas Yeo in September 2007.
A view of Daniel Chester French's "Wendell Phillips" in situ, including its granite base and setting.
Another view Daniel Chester French's "Wendell Phillips" in situ, from the left side.
This is a close up view of Daniel Chester French's "Wendell Phillips" showing Phillips pounding his fist on the podium.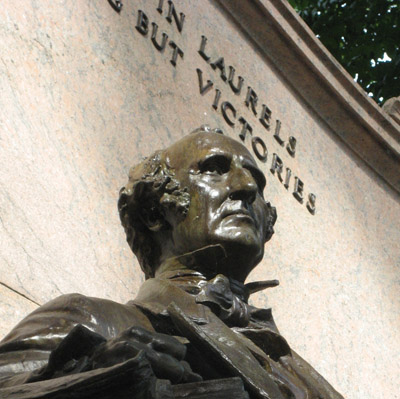 A close up view of Phillips' head.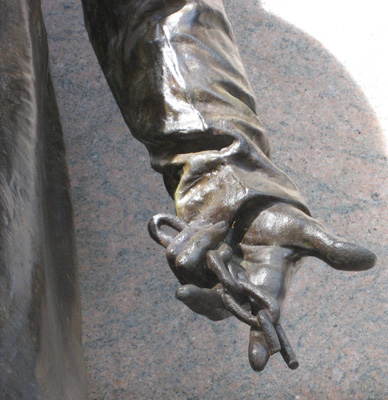 The left hand of Wendell Phillips, showing a broken chain, representative of his stand against slavery.
Return to the Daniel Chester French: Sculptures In Situ page.
---
Unless otherwise noted, all text and graphics on this website [yeodoug.com] are ©1996-2013 by Douglas Yeo.
All rights reserved.