---
Daniel Chester French
"Head of Victory" (First Division Memorial)
---
In 1921, Daniel Chester French was commissioned, along with architect Cass Gilbert, to create a memorial for the First Division of the American Expeditionary Force (Infantry) that served in World War I. French created the gilded bronze firgure of "Victory" while Gilbert designed the obelisk, base and setting. French's initial design of "Victory" was criticized by Major General Charles P. Summerall (of the First Division Memorial Association) as being, "too voluptuous and not sufficiently spiritual." Stung by this criticism, Gilbert intervened on French's behalf and Summerall subsequently backed down, stating, "I am perfectly willing to accept whatever you and Mr. Gilbert decide as beest representing what you know to be my wishes that the monument shall express." French reworked the figure and spent considerable time crafting the head of "Victory." The Memorial was dedicated on October 4, 1924.
French's cast of the head of "Victory" was given to the Berkshire Museum (Pittsfield, Massachusetts) by French's daughter, Margaret French Cresson, in 1972.
The First Division Memorial is located in President's Park, south of the Executive Office Building and East of the Corcoran Gallery of Art in Washington, D.C. The bronze cast of the head of Victory is located in the Berkshire Museum in Pittsfield, Massachusetts.
All photos below of the head of "Victory" were taken by Douglas Yeo in July 2008.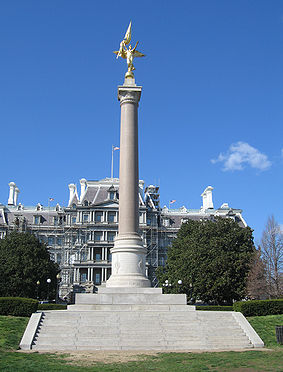 The First Division Memorial in situ, with French's statue of "Victory" on top of the 35 foot high granite column, designed by Cass Gilbert. Photo by Leonard J. DeFrancisci. Used with permission.
Daniel Chester French's head of "Victory" in situ at the Berkshire Museum.
A close up view of French's head of "Victory".
Another close up view of French's head of "Victory".
Return to the Daniel Chester French: Sculptures In Situ page.
---
Unless otherwise noted, all text and graphics on this website [yeodoug.com] are ©1996-2013 by Douglas Yeo.
All rights reserved.