Joannes Rochut is well known to trombone players as the editor of three volumes of "Melodious Etudes" from the works of Marco Bordogni (pub. Carl Fisher). For me, there is another strong connection with Rochut: he played principal trombone in the Boston Symphony from 1925-1929. A native of France, Rochut brought at least two trombones with him when he joined the BSO which are now part of my collection.
The photo above shows Rochut in Paris before he joined the BSO with his daughter and son. Rochut is playing the instrument discussed below. The photo, reproduced in a Boston newspaper in October 1925, has the following caption:
Joannes Rochut, new first trombone of the Boston Symphony Orchestra, and his daughter and son. This charming family snapshot was made before the war, but M. Rochut prefers it to more pretentious photos made since.
Fredinand Gillet, who joined the BSO as principal oboist at the same time Rochut joined the orchestra, is shown in the circular inset at the top right of the photo.
To see another photo of Rochut holding this instrument along with other members of the Boston Symphony Orchestra around 1926, visit my extensive resource, The Eugene Adam Collection.
(ABOVE) This is a photo of Rochut's primary instrument, a B flat tenor trombone made by Lefevre of Paris. Lefevre was active around 1910; his shop was at rue du Theatre 148. The instrument has a very small bore and a bell six inches in diameter.
(LEFT) Here is a close up view of Rochut's mouthpiece. It has the characteristic French trombone mouthpiece funnel shape with a very small cup and throat. This photo also shows the beautifully detailed rolled ferrules supporting the braces.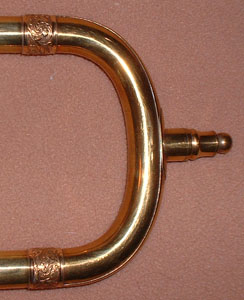 (RIGHT) Rochut's Lefevre trombone has an interesting spit valve (water key). When the trombone is held in the resting position with the slide touching the floor, the end pin, which is spring loaded, is depressed into the bottom slide bow thereby allowing the water to drain out. It is an ingenious invention and one I have seen on several other early trombones.
On July 22, 2009, I gave this instrument to Toby Oft, to celebrate his receiving tenure as principal trombonist of the Boston Symphony Orchestra.